Texas Forged by Eve Gaddy: Chantel Chandler and her sister Angel have a lingerie shop in their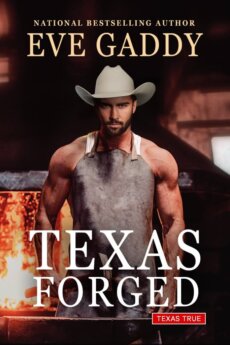 hometown of Whiskey Creek, Texas. Chantel had moved away after high school, but is back home for good. Her sister has the idea that they can be matchmaker and help their friend Marie out. Angel decides Chantel should be the one to go visit Gabe Walker who would be just perfect for Marie.
Chantel dated Gabe's best friend Randy in high school, but lost touch with Gabe after she moved away.
Gabe has recently moved back to the family ranch and has his workshop in a special building. He is a metal artist who has gained some fame and even done pieces as gifts for his town. He has no interest in dating Marie, but Chantel was his secret crush in high school. He didn't steal his best friend's girl then, but he sure would be interested in getting to know Chantel a lot better now.
Chantel is more than a little hesitant to get involved because she is still trying to get past some relationships. How can you resist a man who works with fire all the time and "lights your fire", too?
The cover photo of Texas, Forged has Gabe looking even better than my imagination did. He may not be a Texas cowboy, but he is surely swoon worthy. Who doesn't love a man who is strong, but sweet underneath.
Chantel can't resist Gabe's charm and looks for long. She may be "gun shy", but who can resist someone who has always cared for her?
The author has created a love story that bursts into flames with plenty of heat. At the same time, she shows there is much more than pure physical attraction. Most people truly want a deeper relationship, if they are honest with themselves. If you want a tale that will heat up your day and cause you to sigh, then I recommend that you put this novel on to be read pile right now.
Book Info:

Publication: March 4, 2021 | Tule Publishing | Texas True #1
When the woman of his dreams walks through his door, it seems too good to be true…
World famous metal artist Gabe Walker is elated when the woman he's loved since high school strolls into his workshop to ask him out on a date. But there's a catch—it's with another woman. Gabe has no trouble saying no to that date, but with Chantel? The answer's always hell yes.
With two failed relationships behind her, Chantel Chandler wants to keep things light. She's recently back in Whiskey River, Texas, and is determined to pick up the pieces of her life. But her casual friendship with Gabe quickly combusts into an intensely hot affair with an unexpected surprise…a pregnancy.
Chantel would love to be a mom, but she needs to be loved for herself first. Gabe says he's all in, but how can she trust again when she's been let down so many times?