Texas Outlaws: Jesse, by Kimberly Raye, is a total scorcher and I found the sex scenes to be hotter than hell. The two main characters have amazing chemistry and for that reason alone, this book is worth the read. This is the first book in the Chisholm trilogy.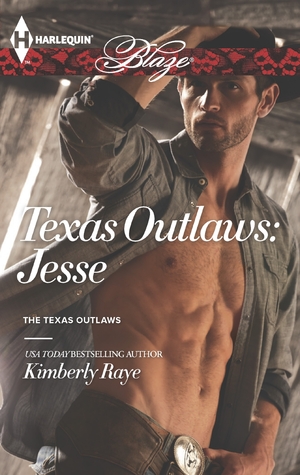 Before I get into the plot, I feel compelled to mention how disappointed I was with the author's choice to use the word "molested" during a scene that was somewhat jovial and mocking. In my opinion, it is not a term that should be used out of context or taken lightly.
Twelve years ago, bad-boy Jesse James Chisholm and wild-child Gracie Jones spent three glorious weeks together. They loved, laughed and enjoyed each other immensely. When a tragedy struck Gracie's life, her mind flicked a switch and overnight she became a mature, conservative woman, in order to ensure a secure and stable life for her younger sister Charlie. As a result, she dropped Jesse like a hotcake, changed her career plans and remained in Lost Gun, the small town she wanted to escape from. .Although Gracie ended things with Jesse, they were both heartbroken. Gracie is now the mayor-elect of Lost Gun, and does a great job convincing herself and her constituents that she loves her boring, mundane life.
Jesse's father was a famous outlaw and the townsfolk of Lost Gun have never let him or his two brothers ever forget it. Not only were they constantly taunted and ridiculed from childhood into adulthood, the press hounded them as well. Especially Jesse, since he was the oldest and knew his father best. The town basically held Jesse accountable for his father's failings, which made his life extremely difficult to navigate. Luckily, he and his brothers found success on the rodeo circuit. Jesse became and is a rodeo champion, inspite of his past and the legend of his father. When Jessie returns to Lost Gun to attend the wedding of the man who practically raised him after his father perished, he runs into Gracie and the sparks ignite once again.
The relationship between Gracie and Jesse is unbelievably hot. Ms. Raye does an excellent job of creating sexual tension and then evolving it into mind-blowing sex. Gracie and Jessie are perfect together and the development of their second chance at happiness is very well described. I felt Jesse's possessiveness and alpha tendencies to be very erotic and hot.
If you enjoy reading about hot cowboys, small towns and overcoming obstacles, give this book a shout.
Book Info:

Published: December 17th 2013 by Harlequin Blaze (Book 780) | The Texas Outlaws
Ever since his father's famous bank robbery years ago, rodeo cowboy Jesse James Chisholm has been the bad boy of Lost Gun, Texas. A rule breaker. A heartbreaker. But he's still haunted by his history, and the only girl who could match his wildness with her own—until she ditched her own bad-girl ways in favour of respectability….
But mayor-elect Gracie Jones isn't quite the upstanding role model she projects. Underneath those conservative skirts and blouses? Very naughty underthings. Jesse's return has stirred not only her long-slumbering wild side, but an insatiable hunger for this rugged, sexy cowboy. And this Texas town is going to see a side of the Wild West they never expected.