Texas Ranger Showdown by Margaret Daley is a romantic suspense novel that will keep readers guessing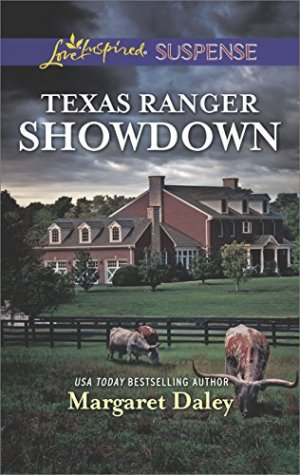 truly until the very end!
Main characters Caitlyn and Ian, who dated when they were younger yet parted ways suddenly, are reunited as adults when Ranger Ian starts to investigate why Caitlyn's radio show listeners are showing up dead. Caitlyn is a therapist who also hosts a call in talk show, and she starts to receive taunting calls telling her to "stop me".
Caitlyn and Ian join forces to figure out who could be responsible. And its' a race against the clock to ensure Caitlyn is not killed as well. While working together to find clues, Caitlyn and Ian revisit their past to figure out what caused their parting of the ways, and they wonder if they can re-kindle their strong feelings for one another.
This is a story that will pull at the heart strings and keep readers at the edge of their seats simultaneously.

Book Info:

Publication: April 1, 2018 | Love Inspired Suspense | Lone Star Justice
She was taunted by a killer.
Margaret Daley's thrilling Lone Star Justice series continues, this time pitting radio therapist Dr. Caitlyn Rhodes against a methodical murderer. First, her patients are found dead, then the mocking phone calls start. The evidence is pointing Texas Ranger Ian Pierce to one conclusion: he must protect Caitlyn from becoming this vicious killer's next victim…before he loses the woman he once loved—for good.
This blurb is from Amazon- Goodreads did not have a blurb posted yet.