In A Star to Steer Her By by Beth Anne Miller, Ari Goodman has struggled to get back into the ocean ever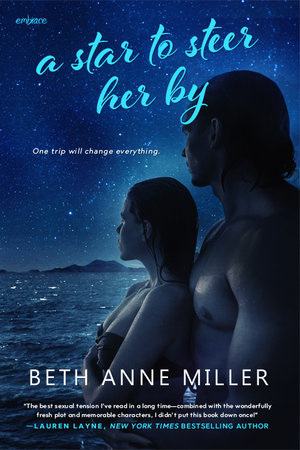 since a diving accident left her scarred and broken. But when she has the chance to board a ship and sail for a semester at sea, Ari knows it's an opportunity too hard to give up, even knowing she might panic whenever she looks at the water. However, meeting Tristan, one of the crew members makes the adventure worthwhile. Can she overcome her fear of the water while on the trip of a lifetime?
=I pulled the edge of the towel over my thigh. He caught my wrist. "Don't, Ari," he said quietly.
I stared at my lap. "It's one thing for you to know it's there. It's another for you to see it."
"Don't be ashamed of your scar," he said. "It's like you told me the day we left San Juan. Your scar tells a story. It tells everyone that you faced off against one of nature's most efficient predators. And you're here to tell the tale. Think about that."=
What an exceptionally invigorating, well-written, fast-paced New Adult romance Ms. Miller has penned in this book, which grabbed my undivided attention from the very beginning and didn't let go until the very end. The way this story started made me feel sorry for the heroine, as she's uncertain whether going on the adventure she's going on is a good idea. Since the last time she was in the ocean having fun, something terrible happened and it's been hard for her to go back into the ocean and enjoy all it has to offer. Will she overcome her fear?
The dialogue was riveting and intense due to all the heroine has been through in her past and what happens to her on her adventure at sea such as the trouble the heroine faces alongside Tristan and Ari finding it within herself to face her fear and overcome it. Then there's the fact that she's at odds with her twin brother over what happened to her. Was her twin at fault when it came to her near-death experience? Will she be able to forgive him? However, it wasn't all intense. There were some really good light-hearted moments to do with everything Ari experiences in her time at sea and between the heroine and the secondary characters that I loved, especially her growing friendship with both Kevin and Jenny. The moment when Jenny and Ari tease Kevin about why they're so caked with mud had me smiling. Trust a man Kevin's age to have such a fantasy.
As for the heroine, she's strong, brave and I liked how she handled every challenge she faces while on board the ship she's on. She does it with plenty of courage and even though it's hard for her to get back into the ocean, I liked the moment that she did. Who knew it would take a huge leap of faith and putting her trust in the right person to help her overcome her fear? Moreover, I couldn't help but sympathize with the heroine when she finally discusses what happened to her that's made her so afraid to go back in the ocean.
While Tristan, he's been through a lot in his life too with the loss of his mom putting a rift between him and his dad. Can Tristan and his father repair their relationship? What will it take for the hero's father to realize that he can't keep going the way he's been going? Also, I liked how kind and caring Tristan was towards the heroine. She needs a friend; someone she can confide in when the going gets tough and I liked that it was him. Besides, with that sexy Scottish accent he has that you can just imagine being whispered in your ear, it was hard not to be enraptured by Tristan.
"If I had known how much that song was going to turn you on," he said, "I would have played it for you weeks ago."
"If you'd played it for me in San Juan, I guarantee that night would have ended differently."
He touched my cheek. "I never imagined that I'd find you skinny-dipping in the dark, Red. I'm proud of you."
"For which part? The skinny-dipping, or going in the water alone at night?"
Overall, Ms. Miller has penned an incredible read in this book about having the adventure of a lifetime, finding love when you least expect it, finding it in one's heart to forgive and being able to overcome one's fears to get back to doing what you love. The way this story ended had me worried for one of the main characters after what happens, but I'm glad how everything worked out between Tristan and Ari, because they belong together. Yet, in saying that, will they're being together get them both into trouble? The pair know their relationship is forbidden. I would highly recommend A Star to Steer Her By by Beth Anne Miller, especially if you are looking to read a story that will provide plenty of adventure, strong chemistry between the hero and heroine, and will deliver an ending bound to leave a reader satisfied since nothing will keep Ari and Tristan apart.

Book Info:

Publication: March 20th, 2017 | Entangled Publishing |
I'm scarred. Broken. I'll never be the same.
But I will take this journey.
Ever since my last dive ended in bloodshed, I've been terrified to go back into the water. But the opportunity to spend a semester at sea is too good to pass up. I need to get my life back.
I never expected to love it this much. And I never expected Tristan MacDougall.
Rugged, strong, and with demons of his own, Tristan helps me find the courage I thought I had lost and heals me with every stolen moment we share. But the rules of the ship mean we can't be together.
When a dive excursion goes terribly wrong, our only hope for survival is each other.