Thank You for Riding by Meg Maguire rounded out my Strangers on a Train series. Although I had a couple of minor issues with this novella, I still really enjoyed it!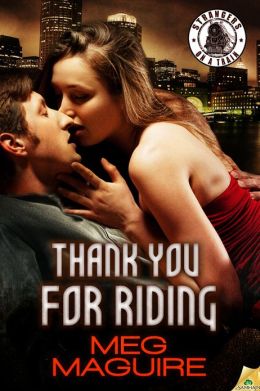 Caitlin is a thoroughly modern woman, in every sense of the word. Especially in the Sexy Time sense. She knows what she wants/needs and she's planning on gettin' it! LOL! Caitlin works in finance and apparently, the finance world is SUPER busy towards the end of the year, which is when this book takes place. So she's been working like 70-hour work weeks for the past few weeks and she is beyond ready for some down time. Her first order of business would be to spend time with her boyfriend but she has to attend a company Holiday Party first. But she's hoping that since her boyfriend works in the same office, maybe she can get "lucky" before they even leave! As you can tell from reading the blurb, things don't work out the way Caitlin had hoped and soon, she's on her way home, on the last train of the night. The more I read, the more I liked Caitlin. But at first, I thought she was a little abrasive maybe? And her inner monologues sounded like the author was trying way to hard to make her hip or cool. Like I was reading a novel written by Diablo Cody or something. It was a little much. But as I got to know Caitlin a little better, her sense of humor really came through and you know I'm a sucker for some funny in my romance!
But you can't have a romance without a partner, right? Well, that's where Mark comes in. Caitlin spotted him across the walkway while they were both donating blood and they engaged in a little harmless flirting. But now after she's had a crappy night, she finds a wonderful surprise on the train – Mark is taking the same way home! I thought Mark was great. He was maybe a teeny tiny bit too much of a goody-two-shoes but I think most people would really like Mark. He donates blood and works with kids at the youth program. What's not to like? Also, he has a hilarious sense of humor. He and Caitlin hit it off immediately on the train and they have a great time chatting during the ride.
But when they get locked inside the train/subway station, things get a little iffy. Nevermind that it's freezing out and Caitlin is wearing a sexy little dress that doesn't keep her very warm. The issue is going to be the attraction between them and Caitlin's raging hormones. Is she going to be able to keep her hands off of him? Would he want her to keep her hands off of him? Well, you won't find out from me! You'll have to read this one to find out!
Overall, I enjoyed this novella. Again, I didn't love Caitlin's inner monologue at first. I really think this girl was seriously sex-starved. But it gets much better, especially when Caitlin calls herself a freak after having some naughty mental images about her and Mark. Too funny. The only other thing I didn't like is that the book ended at 88%. After that 88% was the bio on the author and ads/snippets of other books. I really don't like that. I felt like I was going to get more of Caitlin and Mark but nope. Its over and done with. Even with those two issues, I would still wholeheartedly recommend this book. There are no tears but plenty of chuckles and laugh out loud moments to be had. Give this one a try; I think you just might love it!
Book Info
Publisher: Samhain Publishing, Ltd. (April 2, 2013)
The last train of the night might just be the start of something good.
A Strangers on a Train Story
Stung ego or not, Caitlin's relieved her fizzling relationship is over, even if she's just been unceremoniously dumped between the copier and a dead ficus tree. At least she has an excuse to ditch the lousy office Christmas party in time to catch the last subway home…to her cat, and early-onset spinsterhood.
Instead of a lonely, chilly ride, she gets an unexpected holiday treat in the form of a nearly familiar face—a handsome stranger she encountered last week at the blood drive.
At the end of the line, neither can seem to let their chance meeting end—until their extended flirtation finds them facing the prospect of spending a frigid winter night locked in an unheated subway station. And they wonder if keeping each other warm is merely a delightful form of rebound therapy…or a memorable first of many more dates to come.
Warning: Contains dorky, harmless flirtation that heats up into some spicy, third-base action.