The Apology Project by Jeanette Escudero: Ridiculously successful Lawyer Amelia Montgomery surprises herself when she reaches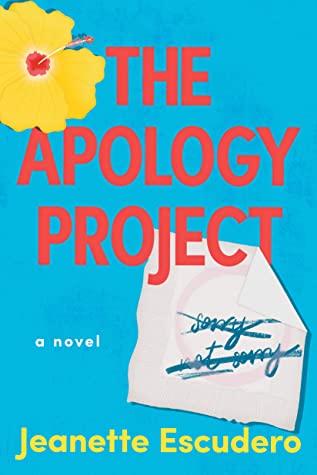 the tip of her own moral compass. Challenging her misogynist partners on a high profile case wherein she was hired as a the token woman by refusing to follow the script and thus assaulting one of the partners after his verbal strike, rends her in a 'retirement' space. And for Amelia, this becomes a space wherein she very quickly discovers the last 20 years of her life dedicated to the company has destroyed her social life, and likely, her social like-ability.
Nicknamed the She-Demon, Amelia slowly comes to terms with what her ambition and work ethic have cost her and after no one other than her family and new guy at the firm who got the email John show up for her 40th birthday, she drunkenly creates a list of people she needs to apologise to. Quickly, Amelia turns her drunken list into a project of sorts and in doing so re-discovers herself as the Millie she used to be, a person who had friends around her and believed in more than just the case file and beating someone in a courtroom.
In many ways Millie's metamorphosis was well overdue and whilst many of her harsher traits were a consequence of extreme business, impatience and work pressure, she comes to realise that she in fact was in the drivers seat in this respect, prioritising her job and career over her loved ones and social disposition.
The surprise packet throughout all, was of course stranger and love interest John, who joined the firm the week after Millie's exit and who challenges her in ways that in effect help her transform back into her former self; a person who cared about others and was accommodating of others' needs.
Subsequently, Millie's journey was thoroughly enjoyable; from reaching out to past friends who she'd left by the wayside, to connecting with new family members – her apology project forces her to realise the power of sorry and its inherent liberating qualities. Moreover, whilst her journey is fairly self-absorbed, it desperately needed to be and therefore she learns the hard task of trusting others and forgiving herself for her imperfections.
In a competitive corporate world wherein perfection and workaholism is valued over being a good person, the key themes were not only relevant but an important reminder for those who dance that dance to take a step back, breath and evaluate your connection to yourself and others.
Overall, I enjoyed every moment of this one, and highly recommend its shared with friends and family members who are addicted to work and need a moment or two to reevaluate what is truly important in life.
Book Info:

Publication: 1st August | Lake Union |
Life is about to get complicated for Amelia Montgomery, a prominent litigator in Chicago. She's been fired for not compromising her principles in a high-profile case and then punching her partner in the nose for the misogynistic comment he made in retort (not her finest moment). Leaving a career that gave her purpose, Amelia can only ask, What next?
Let it be better than her epic failure of a fortieth birthday party: an open bar full of no-shows except for John Ellis, a total stranger and the new associate at her ex-firm. As it turns out, though, he's very good company—and a wake-up call. With the help of John and a lot of champagne, Amelia considers the people she's wronged, from old besties to former boyfriends to coworkers. Amelia resolves to make amends—to those who really deserve it.
One apology at a time, Amelia's looking at the choices she's made in the past, the new ones she's making with John, and those she's making for herself. What next? Maybe a second chance she never expected.