In The Army Ranger's Surprise (The Men of At-Ease Ranch #5) by Donna Michaels, former Ranger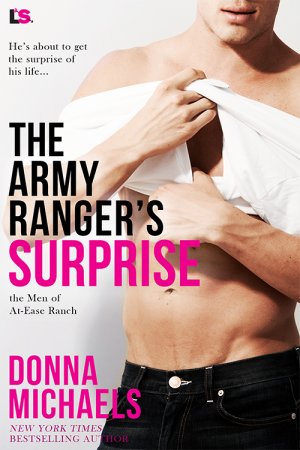 Leo Reed has found it hard to adjust to civilian life, but he's finally started to take control of his life. Visiting his grandmother is something he looks forward to, especially since it gives him the chance to spend time with Kaydee Wagner – the woman that lives next door. Helping her with repairs around her property isn't hard, but as he and Kaydee grow closer, Leo doesn't know whether he'll ever be able to give Kaydee everything she deserves. But when Kaydee discovers she's pregnant, will Leo step up to be everything she needs or will he walk away from his shot at happy ever after?
"I'm so sorry. I didn't hear you come in."
"I know."
She stilled, and her gaze slowly rose to meet his. "Oh, crap. Exactly how long were you in here?"
Loving the flush of color that swept up into her cheeks, he decided to tease her a little more. "Long enough to know you'd be dangerous on the dance floor."
"Yeah, to others." Her blush increased. "Oh, God, I can't believe you saw that."
There is so much to love about this series from Ms. Michaels such as the ex-military heroes, sassy heroines, main characters that have been through so much in their pasts and deserve the love that they find together, and compelling dialogue that has drawn this reader into each story from the very beginning and made me laugh throughout and this story is not different. Except, it is a little more on the emotional side because of Leo's past while still offering a good dose of laughter due to the tight friendships of Leo and his ex-military buddies in Brick, Vince, Cord and Stone as well as the close relationship Leo has with his Gran and Kaydee has with her Grandfather. .
With the dialogue, it was very entertaining due to the main characters back stories, their growing relationship and the obstacles this couple face on their journey to happy ever after because Leo doesn't believe he's good enough for Kaydee while the heroine is determined to prove otherwise. Will Kaydee be able to find a way to get through to Leo and help him heal from his past? Moreover, the heroine is resilient, courageous, sassy and I loved how determined she was to show Leo that she sees the real him, even the darkness he's tried to hide and hasn't made her run from him yet. I also liked the close relationship the heroine shares with her Grandfather and how willing she was to help him.
"You're definitely looking at this wrong, Leo," she said without another squeeze to his shoulder. "You're a gift."
He snorted and turned to face her. "Now who's slinging bulls***?"
She lifted her hand to pat his face. "Sometimes someone needs to fall in order to lift others up."
He stiffened as her words sank in. That would mean he inspired. Now that was bulls***. The last thing he felt was inspiring.
While the hero, he's been through a lot and I couldn't help but sympathize with him because he's tormented by what happened during his time in the military. Will he ever be able to move on without feeling such guilt over things that happened in the past? I also liked the hero's determination to win over the heroine, even though he doesn't believe he's good enough for her or capable of being the kind of man she deserves. Will Leo work through his issues before he ends up hurting the heroine? Yet, what I loved most of all about the hero is the tight friendships he shares with the secondary characters in his fellow former Rangers and the sound advice they give him in order to show him that he deserves happiness just as much as anybody.
Overall, Ms. Michaels has delivered a superb read in this book that wraps up this series wonderfully and where the chemistry between this couple was powerful; the romance was hot and did justice to this couple's intense chemistry; and the ending had me crying happy tears because no one is more deserving of happy ever after than Leo. Really, I was so glad he was willing to fight for his happiness with Kaydee. However, it was the epilogue that wrapped this story and series up marvellously because there's so much to be celebrated. I would recommend The Army Ranger's Surprise by Donna Michaels, if you enjoy the surprise pregnancy trope or books by authors Cat Johnson, Jennifer Bernard, Elle James and Pamela Clare. Furthermore, I would recommend this entire series, especially if you love ex-military heroes or are looking for books that provides a good dose of laughter while also taking you on a little bit of an emotional rollercoaster because of the character's pasts.
Book Info:

Publication: July 9th,2018 | Entangled LoveStruck | The Men of At-Ease Ranch #5
Army brat Kaydee Wagner gets twitchy if she stays in one place for too long. But when her grandfather needs someone to stay with him for a bit and his home needs a lot of repairs, she steps up to the plate.
Lucky for her, help arrives from their neighbor's gorgeous grandson, former Army Ranger Leo Reed.
Leo's desperate to rise above his dark past and enjoy life again. He's already made a lot of progress, so when the woman he can't stop thinking about needs a handyman, he volunteers. But after a very…wet incident involving deadly dance moves and a wayward sink hose, their clothes hit the floor faster than a stack of tile.
He doesn't want forever—that would mean revealing his past, which he's not ready to do. She only wants right now, because any other option would require sticking around.
And then Kaydee discovers she's pregnant.