In The Baby Bargain by Jennifer Apodaca Megan, a veterinarian, is stunned when her old flame Adam, a former Marine, shows up in her clinic with a wounded dog. She hasn't seen him since he left 3 years ago, telling her he wouldn't be back. But now he is, and Megan has a secret. Megan has a son, Cole…he's also Adam's son, only Adam doesn't know.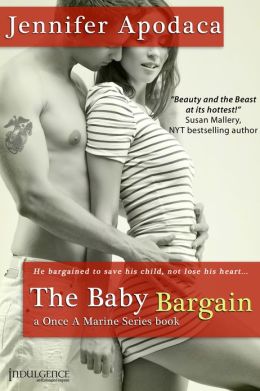 He had been very clear that he didn't want a relationship or a family the last time Megan saw him. Because deep inside Adam has his secrets too, he is hiding a lot of childhood hurt and agony.
But now that he's back, even if only temporary while doing some work for his security company, Megan finally decides Adam should know Cole. Before she tells him though, she needs to make sure he's not going to hurt their son the way her father hurt her. But before she can tell Adam about Cole, suddenly Megan's professional and personal security is threatened and she needs Adam's help in more ways than one. Suddenly everything is out in the open and Adam will do anything to protect his new found son and Megan, despite the hurt he feels that Megan kept this from him.
Seeing each other brings back all the heat between them, and it definitely gets hot! But Megan is not interested in a relationship that's only sexual, and that's all Adam can offer her right now. Megan gives her trust wholly to Adam, but can Adam do the same for Megan? Can they work through their childhood issues and find a happy future either together or at least as friends for Cole's sake? At the same time that Adam and Megan are struggling with these issues, the threats to Megan are becoming scarier and both Adam and Megan are nervous, wondering who would want to harm Megan.
I loved both of the main characters in The Baby Bargain. Adam and Megan both had significant childhood hurts that in some ways they were able to move past, but in other ways they were stuck in those hurts. This made them realistic and very likeable. I really liked all of the secondary characters in this book too, they all fit right in perfectly, whether they were 'good' or 'bad' characters.
Jennifer Apodaca gives us a fantastic romantic read with The Baby Bargain, I absolutely loved this book! The whole story flowed smoothly and kept me entranced from start to finish. Jennifer manages to bring out a variety of emotions in the reader, laughter, on the edge of your seat suspense, love, and yes, even a few tears!
The Baby Bargain definitely gets a high recommendation for any romance reader out there who likes some sizzling suspense too!
Rating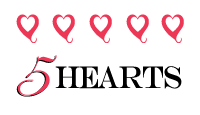 Book Info: Publisher: Entangled: Indulgence (March 11, 2013)
Seeing Adam Waters is the last thing veterinarian Megan Young expects. Ex-Marine. Ex-boyfriend. And still extremely dangerous territory. But Adam doesn't know the secret Megan has been keeping from him. The secret that was created three years ago, after their last night together…
Adam returns to Raven's Cove to sell his home in a final break with the town and memories that haunt him. The problem is that his attraction to Megan is as blazing hot as it ever was. But when a vicious smear campaign against Megan turns ugly, Adam learns the truth he never knew—he has a son.
Now the only way Megan can protect her child is to strike a bargain with Adam. And it's a bargain that looks a lot like blackmail…