In A Risk Worth Taking by Victoria James Holly left Red Rock behind and headed to Toronto at the age of 18. She has worked hard towards her goal of becoming a senior designer at the interior decorator firm in Toronto that she works for.
"Poor, small town Holly was no more."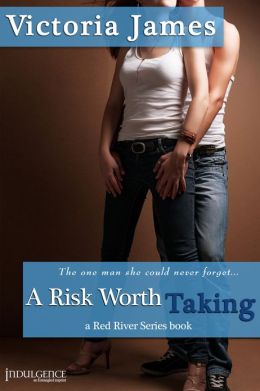 Finally, 10 years later, the day has come! But as she is sitting in her boss's office she also gets news that shatters her. Her sister Jennifer and brother in law have just been in a fatal car accident. Instantly Holly becomes the guardian and most important person in her baby niece's life. Despite her grief, Holly pushes through, working intensely in her new position as well as hiring a nanny and raising Ella.
After 4 months of a break neck pace, it is time for Holly to head back to Red Rock. Holly only plans to return to small town Red Rock for the 2 months it will take to renovate and sell her grandparents house. The house Holly and Jennifer grew up in, the place where Jennifer and her husband were going to make their home and raise Ella. Holly has no intention of staying in Red Rock. For her there are too many memories of everything she's lost. There's also Quinn. The man Holly fell hard for and as an 18 year old was rejected by. Much to Holly's angst, Quinn is also who she needs in Red Rock to help her with the renovations. Holly has never gotten over Quinn, nor the rejection she felt by him. But they need to work together and she's determined to do that.
Both Quinn and Holly feel a pull to each other that has nothing to do with their working relationship! But Quinn has a few ghosts of his own that Holly doesn't know about, that he has not been able to lay to rest. As they work together on the renovations and Quinn cares more and more for Holly and Ella, it is becoming harder and harder to maintain a professional relationship and keep his hands off Holly. Holly is finding it harder and harder to resist Quinn…
"She was in way over her head, feeling a little crazy as her mouth went dry and a decadent, dangeous heat swam through every inch of her body."
Quinn decides he is not going to lose Holly again. He wants to put the past to rest and have a future with her. Holly though is running scared. She's scared of not being a good enough parent for Ella and she's scared of caring and losing.
Can Quinn convince Holly that he is A Risk Worth Taking? Or will Holly be too scared to take the risk and head back to Toronto?
A Risk Worth taking gives us some realistic characters, that give the readers strong feelings towards them! I alternated between feeling sorry for Holly, feeling annoyed by her, laughing at her, and hoping she's grown up enough to take the risk! Quinn is patient, sexy, and strong! I would definitely take the risk with a guy like him.
Victoria manages to make us laugh, sigh, and hope for a happy ending in A Risk Worth Taking.
Rating
Book Info: Publisher: Entangled: Indulgence (March 11, 2013)
Interior designer Holly Carrington worked hard for her success. Then tragedy struck, leaving Holly the sole guardian of her infant niece. Now she's swapped her designer purse for a diaper bag, and is going ahead with plans to renovate—and sell—her childhood home in Red River. But facing her past also means coming face-to-face with Quinn Manning all over again…
Quinn was the object of her girlhood crush—and heartbreak— and is more gorgeous than ever. He's also the only person qualified to oversee the renovation. Now they're butting heads every step of the way… and their attraction is more electrifying than ever! But once the house is sold, Holly needs to return to her real life. And falling for Quinn all over again is one risk she can't take.