5 The Baby Proposal by Andrea Laurence: Kal and Lana have been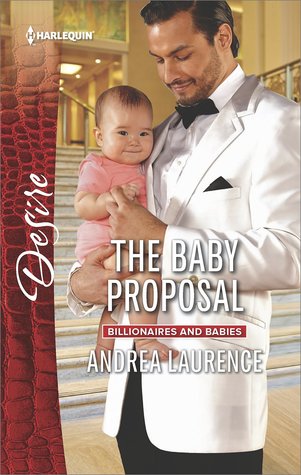 friends for ages, and Kal is very happy having Lana as the choreographer and an accomplished dancer at his Hawaiian resort. She's a native Hawaiian, well versed in the art of Hula dancing and he's proud of the authentic experience he offers to tourists. Lana lives in a suite at Kal's hotel, while Kal has recently built a house on the resort property. She is sometimes uncomfortable coming to Kal for help, especially when it involves her family but this time she has no choice. Her sister is being brought up on drug charges and as a result Lana's niece is going to go into the foster care system if Lana doesn't step up to take care of her while her sister (hopefully) sorts out her life.
Hiring a lawyer to help Lana, Kal agrees to the proposition set forth that would be the most likely to persuade the judge to give Lana temporary custody of the child – married, living in a suitable environment and offering the baby the stability she sorely needs. While Kal has been attracted to Lana for some time, they'd never gone beyond friendship. But a quickie marriage of convenience happens, and once Kal and Lana are living in the same house and taking care of the baby, the attraction between them flourishes. It's a temporary arrangement, until Lana's sister goes through an addiction treatment program successfully. But when their time together is up, will Kal and Lana be able to go back to being just friends?
What a lovely story! The Hawaiian culture is definitely on display with the dancing, food, atmosphere and lovely location all well represented. Kal and Lana, as native Hawaiians, choose to have their marriage (even though it's one of convenience) celebrated in traditional style which was new to me and quite enjoyable. There was definitely a lot of research that went into setting this story .
Kal and Lana bond over the sweet Akela (a lovely six month old baby) and discover passion between them as they settle into their 'married ' life even knowing it won't last. Their love scenes are sensual and show a developing intensity of feelings between them. Of note, Kal's brother Mano who plays an important role as a secondary character has his own story in The Pregnancy Proposition (Hawaiian Nights #1) and I'm definitely intrigued by him, so I've added that one to my to-read list! All too soon, Kal will have to decide whether his feelings for Lana are more than just friendship, and make some decisions accordingly. It's an entertaining and enjoyable romance with a happy ending for Kal and Lana. I look forward to reading more from this author.
Book Info:

Publication: Dec 01, 2016 | Harlequin Desire | Billionaires and Babies #76
Faking a marriage for baby's sake
When Lana Hale asks hotel tycoon Kal Bishop to marry her, he can't let his best friend down! To keep her sister's baby out of the foster-care system, Lana needs Kal to pose as her husband. Soon his luxury Hawaiian resort sets the stage for an unexpectedly passionate honeymoon
Before they know it, playing the part of lovers turns into the real thing. And once the need for their ruse ends, Kal faces losing a wife he didn't even know he wanted. Will the reluctant husband take the ultimate risk and make a proposal of his own?