In What a Bride Wants by Kelly Hunter, despite, or maybe because of, the family wealth, Ella works on the family ranch with her father. Her mother died years ago so it's just been Ella and her father, who has decided it's time Ella settled down and found a husband. Ella would like nothing more to find her true love, but so far she has found no one who sees beyond the family wealth to Ella.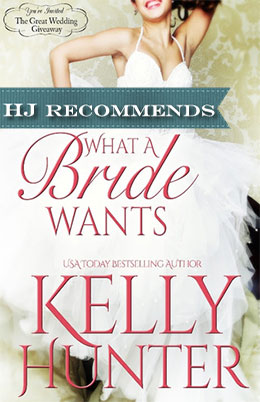 Until Sawyer. Perceived as the local drifter, there is a lot more to Sawyer than what meets the eye. What begins as a lark between Ella and her father to find a husband for her, soon morphs into something much more meaningful when Ella gets together with Sawyer. The sizzle is hot, the attraction immediate, and soon the two of them are getting to know each other very well. Both of them are falling hard for each other
Sawyer's family has a skeleton in their closet though, and it's one of the reasons he has been afraid to commit, afraid to love anyone. Will this time prove differently though? When all is out in the open and needs dealt with, will Sawyer and Ella's new relationship survive it?
I loved this novella by Kelly Hunter! Written with a perfect infusion of romance, humor, and a little suspense, Kelly draws you in to Ella and Sawyer's story and makes you hope they will have a happily ever after. The characters are strong and the feelings are real. Ella is strong, independent and she likes to be in control. Sawyer could be the perfect match for her…especially once she gets below the surface. Sawyer is open, he's not offering a lot of information up about himself and his past, but he's not hiding it either. He too wants acceptance for who he is, not what he has or what he's come from. The chemistry between the two of them is great and they have a lot of fun together.
I'd recommend What a Bride Wants to any romance reader looking for a fast paced, fun, love at first sight romance.
Book Info:

Published March 28th 2014 by Tule Publishing
What a bride wants…
Ella Grace Emerson adores her father, but he keeps trying to marry her off to every eligible rancher in Montana. When he puts an ad in the paper on her behalf – for a docile house-husband – Ella retaliates with one of her own, pinned to the noticeboard of the local saloon. No husband required, housebroken or otherwise. What she wants is the perfect lover.
What a bride needs…
Newcomer Cam Sawyer is perfectly willing to tear up the sheets with Ella and be her partner in chaos. She wants a bad boy and he's had experience aplenty. But what she really needs is a strong and loving partner, and until Sawyer stops running from his past he can never be that.
Sawyer's the one Ella wants. But can he be the man she needs?