The Bad Boy Experiment by Reese Ryan is a book that I really liked. Renee Lockwood, a brilliant scientist, has returned to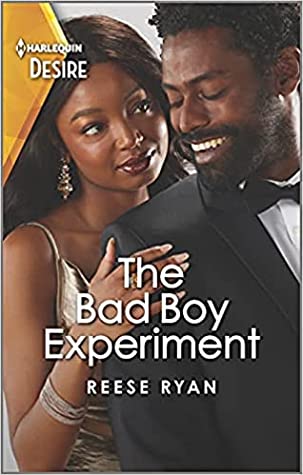 Magnolia Lake, Tennessee, after many years away. And this time she comes determined to stay. Her goal is to make her grandfather Milo's farm functional again. A goal that becomes a bit complicated when Cole Abbott, her former friend and her teen crush, makes an offer to Renee's grandfather to buy the land to turn it into a luxury home development. Aware that both projects will bring benefits to the community, Milo gives them the option of competing for the farm: they will have to live on it, in neighboring houses, for six months.
As time passes, Renee and Cole revive their friendship, although there comes a time when being "just friends" is not enough. It is then that Renee puts "The Bad Boy Experiment" into action and proposes a no-strings relationship to Cole. Which he accepts, of course. But what will happen when those nights of unbridled passion give way to love?
Under his rebellious-bad-boy facade, Cole is a man with a sensitivity we don't see often in Harlequin Desire heroes. At times he can be insecure and even fearful of rejection. However, these "weaknesses" in Cole are what define him as a strong, resilient character, who doesn't give up until he becomes the successful businessman that he is. On her part, Renee returns to the place she grew up with several scars. With a failed marriage and a child with special needs behind her back, her priority is to achieve financial and emotional stability for her and her four year-old son, Mercer.
"Their relationship was a complicated dance. Friends. Next-door neighbors. Competitors. Lovers."
As teenagers, they both had a very unique friendship that left them somewhat hurt, so returning to that friendship is kind of challenging. But the chemistry and attraction cannot be denied, and in Ren and Cole's case, there's A LOT. In addition, there's a tenderness that can be felt, and it doesn't take long for that friendship to evolve into love and having the happy ending both Ren and Cole deserve.
This is the sixth and final book in The Bourbon Brothers series, and I think it's a great ending. The way the details are very well cared for (the messages on Cole's t-shirts are hilarious!) and the alluring and funny dialogues, although serious when they deserve it, make the reading very entertaining. Likewise, the supporting characters, especially the Abbotts, are refreshing. And Mercer is a sweet, charming boy.
A story that deals with issues such as autism and learning disabilities in a sensitive and simple way without overshadowing the essence of Harlequin Desire books, the sexy romance. Although I thought there was a little loose end when it came to Cole, I think it was a very good ending to this series.
Book Info:

Publication: December 28, 2021 | Harlequin Desire | The Bourbon Brothers #6
A steamy fling with an old crush who doesn't do commitment? What was she thinking! Find out in the conclusion to Reese Ryan's Bourbon Brothers series.
What happens when you say yes to a bad boy?
Even if divorcée Renee Lockwood were willing to give love a second chance, she wouldn't choose Cole Abbott. The sexy, successful real estate developer doesn't do commitment. But he's perfect for a no-strings fling—exactly what Ren needs now that she's moved back home to raise her son. Mind-blowing pleasure with the man she once crushed on is harder to quit than Ren expected. Impossible, in fact. Is time running out before the bad boy bolts…or will the results of her experiment surprise her?
From Harlequin Desire: A luxurious world of bold encounters and sizzling chemistry.
Love triumphs in these uplifting romances, part of The Bourbon Brothers series:
Book 1: Savannah's Secrets
Book 2: The Billionaire's Legacy
Book 3: Engaging the Enemy
Book 4: A Reunion of Rivals
Book 5: Waking Up Married
Book 6: The Bad Boy Experiment