Bad Luck Bridesmaid by Alison Rose Greenberg: Will you be my bridesmaid, is normally one of those happy moments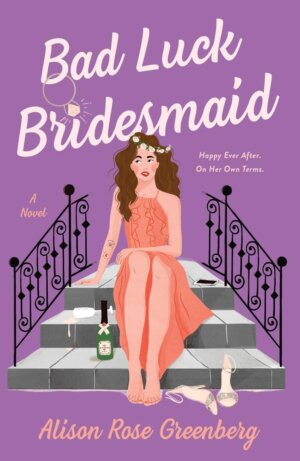 between friends but for Zoey Marks this could not be further from the truth. After being in three failed wedding parties Zoey is left to question is she really a bad luck charm? Has her ambivalence to marriage really put a dampener on the happy union of three of her friends? However things get serious when her little streak of bad wedding luck is now threatening not only her own happily ever after but that of her best friend! Determined to put her full effort and all the good vibes that she can muster into getting her bestie down the aisle, Zoey hopes that this time round she can help bring the joy not only for Hannah but also help fix her broken relationship with Rylan.
"I felt it right there on our first date: this man had the power to utterly unhinge me."
The Bad Luck Bridesmaid is going to be one of those books that stays with me for a while, there was just something so relatable about Zoey and her journey. As much as I wanted this to be a real and true romcom read I have to say that it was more woman's fiction/ chick lit novel, normally this isn't really my cup of tea but there was just something about the way Greenberg captured this entire tale that made it so consuming. I have to mention that the cover was brilliantly done and helped set the scene of the misadventures of Zoey Marks.
Zoey was amazing! I loved that she was so unapologetically herself, she did not shy away from wanting to be different and truly be herself. The thing that I loved the most about Zoey was that she was okay with being on her own. She really didn't need a man to feel complete, even after falling in love and having experience heartbreak. I think this is what made her character so relatable to me personally, it's okay not to be settled down or getting married; as long as you are happy. However on the same hand I really liked getting to see her walls come down slowly as she let Rylan into her life and heart.
"I think that too often, women take pieces of themselves they have no reason to hate, and they carry those pieces around like failures. If enough women stopped apologizing, then maybe there'd be less of an expectation for us to always burn bright and stand still. Maybe our complications would become our backbones instead of our scarlet letters."
I have to say for much of the book I had been rooting for Rylan and Zoey, I mean how can you not love Rylan he was practically the perfect boyfriend. However I will say that I liked the little twist that we got at Hannah's wedding. Gosh the wedding now lets just talk about that for a moment, without giving away to much I have to say that this painted Rylan in a slightly different light, but gosh the angst between him and Zoey was fire on a page! I loved that Zoey was so determined to help Hannah down the aisle, even going to the extreme of dealing with the crazy bird and the groomsman from hell.
Hannah was such a brilliant character, I loved the way that she and Zoey balanced each other. Their bond was really one of true friendship. I absolutely loved the Loch scene, this was one major laugh out loud only your best friend would do this for you moment.
For much of the book I was sure this would be a five star rating for me but because of the ending, not that it was a bad ending but I had wanted something more, I have to deduct half a star. Ultimately The Bad Luck Bridesmaid was a really good read that I would recommend.
Book Info:

Publication: January 11th 2022 | St. Martin's Griffin |
It's official: Zoey Marks is the cursed bridesmaid that no engagement can survive. Ten years, three empire waist dresses, and ZERO brides have walked down the aisle.
After strike three, Zoey is left wondering if her own ambivalence towards marriage has rubbed off on those she loves. And when her building distrust of matrimony culminates in turning down a proposal from her perfect All-American boyfriend, Rylan Harper III, she and Rylan are both left heartbroken, leaving Zoey to wonder: what is it exactly about tying the knot that makes her want to run in the opposite direction?
Enter Hannah Green: Zoey's best friend, who announces that she's marrying a guy she just met (cue eye roll). At a castle. In gorgeous, romantic Ireland, where Rylan will be in attendance, and Zoey will be a bridesmaid. It'll be fine.
Okay, the woman definition of fine (NOT FINE).
Determined to turn her luck around, Zoey accepts her role and vows to get Hannah down the aisle—all the while praying her best friend's wedded bliss will allow her to embrace marriage and get Rylan back.
But as the weekend goes on, Zoey is plagued with more questions than answers. Can you be a free spirit, yet still want a certain future? Can you have love and be loved on your terms? And how DO you wrangle a bossy falcon into doing your bidding?