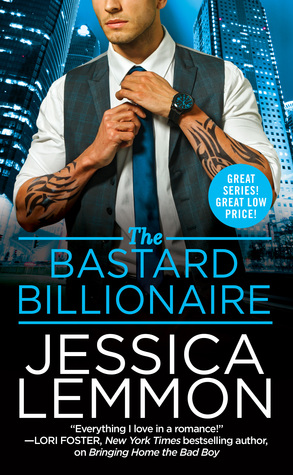 The Bastard Billionaire (Billionaire Bad Boys #3) by Jessica Lemmon: When it comes to hot and sexy Billionaires, no one has a better recipe than Jessica Lemmon. Her Billionaires are hot, sexy, moody and downright irresistible. I have been waiting for Eli's story for awhile now, and let me tell you, I was anything but disappointed. This is the third book in the Billionaire Bad Boys series, and this is the amazing story of Eli and Isabella.
Eli Crane is the middle of the Crane brothers. He is a war hero, wounded in battle, suffering survivors guilt that he was unable to save his two best friends. Feeling like a failure, he wants nothing to do with his bossy brothers and their plans to make him COO of Crane Hotels. He is moody, he is gruff and he scares away every assistant that his brothers throw his way, until Sable walks through the door. She is the one woman that he wants to make sure stays, and if he has his way, it will be permanently.
Isabella Sawyer broke away from her family's business to become independent, after being dumped for not agreeing with the fiancee that her parents picked for her. She stated her own company. When the grizzly Eli Crane scares away every staff member she sends over, she decides to take the assignment herself. But what she does not count on is the instant zing of attraction that bounces between them. What she does not count on is feeling drawn to him so fiercely.
As Eli and Isa (Sable to Eli) grow closer and take the next step, Eli will need to learn to open up and find a way to let Sable in before he loses her forever.
What I really loved about this amazing story is that Sable and Eli are so perfect for each other. Both felt second best. Sables family always thought that she should work for them, be involved with the man they chose for her, that the job that she did was beneath her. Eli felt second best, that he should have been able to save his friends, that he was unworthy of love, unfit to be part of the family business. But Eli respected Sable, and Sable never looked at Eli as anything but the HOT SEXY ex soldier that he was.
Another amazing billionaire series for Jessica Lemmon. If you have not yet read about the Crane brother, I would highly recommend them to everyone.
Book Info:

 February 28th 2017 | Forever | Billionaire Bad Boys #3
A BILLIONAIRE BAD BOYS NOVEL
Beauty and the Beastly Billionaire . . .
Eli Crane is one tough bastard. After an explosion left him injured and honorably discharged from the Marines, all he wants is to be left alone. Yet his brothers insist he take a greater role in the family business. They've hired him ten personal assistants-and Eli sent each one packing as fast as possible. But when beautiful number eleven walks through the door, Eli will do anything to make her stay.
Isabella Sawyer's employment agency can't afford to lose Eli Crane's business. Her plan: to personally take on the role of his PA, and secure her reputation with the wealthy elite in Chicago. But this beauty and her hot billionaire bad boy soon find themselves mixing business with pleasure in the most delicious ways. And passionate, stubborn Isabella won't rest until she tames this wicked beast . . .