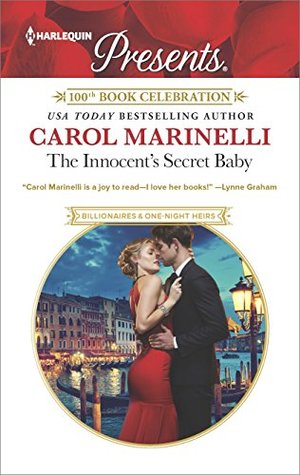 The Innocent's Secret Baby by Carol Marinelli: This sensual romance set in England and Italy is the tale of a billionaire who finds himself captivated by an English rose. Sicilian tycoon Raul di Savo has been looking for ways to get revenge on rival hotelier Bastiano, an ex-childhood friend. When he overhears Lydia Hayward speaking with her stepfather in a hotel restaurant about meeting the man he once called a friend, he is determined to learn more. His method – to turn the spark of attraction that flickered between him and Lydia at first glance into a passionate encounter, with an eye to claiming her and thwarting his rival.
Lydia is flattered by the attention from Raul, but not naive. She knows, and he makes it clear, that he's interested in one night with her and that he doesn't do relationships. With her previous memories of Italy from a school trip not very pleasant, it's impossible to resist the handsome man who sweeps her off her feet and into his bed. When Raul finds out she's a virgin, he pulls away at first. But he can't deny that she intrigues him and convinces her to come with him to Venice. One night turns into more – but when Lydia finds out Raul's secrets, and discovers she is pregnant with his child, will it be an abrupt end to their happiness?
First of all, congratulations are in order for the author, as this story is her 100th Harlequin romance, a fantastic feat! Clearly she has the right formula for engaging readers and making them return to her books again and again.
The story takes place with a few flashbacks into the past as it delves into the history of Raul and Bastiano to explain the animosity between them. It's quickly revealed in a prologue that Bastiano, at 17, had an affair with Raul's mother (in her mid-30s). When Raul's father found out, Raul's mother died in a car accident while escaping a nasty scene. Since then Raul has blamed Bastiano for his mother's death. While for plot purposes I can see why this storyline works, personally I wasn't overly keen on the idea of a 17 year old teenage boy having an affair with his best friend's mother. There are more revelations that come out over the course of the story though, and help to put a bit more context into Raul's mother's character and decisions.
I quite liked Raul as the hero in this story, despite a few character flaws. He's arrogant, and has high expectations of those around him. Early in the story, when he first meets Lydia, he has a family removed from a restaurant due to their crying child. This sets him up as not the most generous of characters, but is meant to show his feelings about children, distinctly making his discovery later in the story of Lydia's pregnancy one that will cause extra conflict between them. Fortunately he is redeemed by being a rather good listener to Lydia and coming to her defense when needed. He's a skilled and patient lover too. They share some sensual scenes together and his seduction of Lydia is definitely a high point of the story. Of course, he mucks things up later on, but gets the chance to grovel on the way to a happy ending. Lydia comes across as quiet and composed, but shows a backbone when needed. She too makes some mistakes and isn't blameless in the conflict between them, but I enjoyed seeing how they worked through their issues. The epilogue is sweet and satisfying. Ms. Marinelli's fans will be pleased that with 100 books under her belt, her writing still feels fresh and inventive.
Book Info:

 Feb 21, 2017 | Harlequin | Billionaires & One -Night Heirs #1
A ruthless billionaire…
When Sicilian tycoon Raul Di Savo meets Lydia Hayward, it's not only her cool elegance he desires—seducing Lydia will also deny his lifelong rival's bid for her body…
An innocent in peril…
Desperate to escape being sold to a stranger, Lydia turns to Raul—he promises her only one night, but his expert touch awakens her to pleasure she cannot resist!
A nine-month consequence!
Discovering she's a pawn in Raul's game of revenge, Lydia leaves…until she realizes an unexpected consequence will bind her to Raul forever!