In Into the Night (Killer Instinct #3) by Cynthia Eden, After surviving hellish torture at the hands of a serial killer, Macey Night left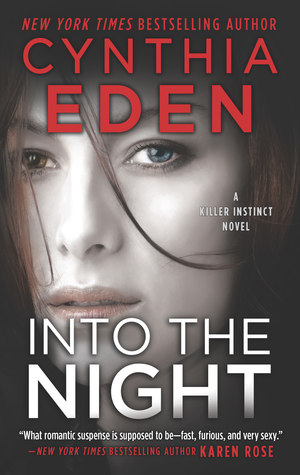 her medical career and became a profiler for the FBI. Landing on Samantha Dark's team specializing in catching serial killers, Macey is surrounded by agents whose lives have all been touched by evil. And now with a killer on the hunt around the Smokey Mountains, she's been partnered up with agent Bowen Murphy to track the culprit down. But as Macey's past becomes entangled with their current case, she also becomes involved with her partner. At first it's just physical, a way to relieve the stress they're under. Or so she tells herself. Because Macey knows the feelings that are growing just under the surface for Bowen are the real deal. And she's not sure she's ready to put her complete trust in someone, even if she knows he'd never do anything to harm her.
'She gave herself fully to his kiss, holding nothing back. With her eyes closed, with her body pressed to his and her mouth desperate on his, she didn't see her past. She didn't see anything at all. Macey just felt. And she liked how she was feeling.'
Bowen knew from the start that his attraction to Macey was just the beginning of things. But also knowing they have to work cases together–and that it's frowned upon by the bureau–he's tried to keep his interest in her to himself. This latest case, though, raises Bowen's hackles. The killer seems to be taunting him and Macey and somehow always stays at least one step ahead of them. When their perp makes things personal, bringing up both of their pasts, Bowen knows he's going to have to stay focused in order to keep Macey safe. Things get way more complicated and intense when the sparks between them finally ignite, leaving both of them stunned at how perfect they are together. But will the killer also realize that a fledgling relationship is growing between Bowen and Macey and use that to his advantage?
'Bowen Murphy had one weakness in this world, and that weakness was named Macey Night. The beautiful, brilliant and very, very untouchable Macey Night.'
Into the Night was a dark romantic suspense with lots of curves in the road while I figured out who the killer was. I had my suspicions, but Cynthia Eden threw in a few surprises that kept me glued to the pages right through to the end.
"What is the perp doing?" Macey whispered as her brow furrowed. "It's almost like he's…"
"Taking out the predators. Hunting them…"
Her gaze met his.
"Just like we are," Bowen finished.
I feel like every time I read a book by Cynthia Eden I ask myself why I don't read more romantic suspense. (lol) I just get so caught up in the exciting stories she spins, with all the plot twists and her deeply flawed but completely relatable characters that I don't want their journey to come to a close. While this book can be read as a standalone, I found that with Bowen and Macey, I was glad to have been following the series and had glimpses of them before–as well as having watched the dynamics between everyone on Samantha's FBI profiler team. I thought in some ways it made it easier to see what was really going on, but yet at the same time I didn't want anyone close to Macey or Bowen to have been involved in the killings.
Bowen and especially Macey's backstories will be rather difficult for readers who are a bit squeamish about gory, detailed attacks/murder scenes. But I thought what they both had been through and how they took their pain and became part of the FBI to get killers off the street was so courageous. Macey still dealt with the scars, physically and mentally, from her attack and I loved that Bowen helped her believe that she was beautiful, inside and out. She was one smart, compassionate lady who had strength beyond measure. But it was Bowen who took me by surprise with how tender he was with Macey and how strong his love for her already was, even at the beginning of the story. It made it that much more sigh-worthy to watch Macey give in to what Bowen knew was the makings of a strong relationship. Plus they worked together so well as a team on this case. They were very in tune with each other's thoughts and were quite protective of one another of course.
Into the Night was a perfectly balanced book, with its sweet and sultry romance, the intriguing plot, and the methodical killer that stayed one step ahead of everyone. Definitely recommended.

Book Info:

Publication: December 26th 2017 | HQN | Killer Instinct #3
Two FBI agents are caught in a merciless vigilante's crosshairs in New York Times bestselling author Cynthia Eden's electric Killer Instinct series
Lives will be ravaged as two FBI agents confront a mastermind serial murderer in New York Times bestselling author Cynthia Eden's new Killer Instinct novel
Sheltered in the shadows of the Smoky Mountains is the suspect who's summoned FBI agent Macey Night's fears to the surface. Every day that the "Profiler," a vigilante serial killer, escapes justice is another day she's reminded of what it is to be a ruthless predator's prey. Capturing him is a craving deeper than anything she's felt in a long time. But Agent Bowen Murphy, equal parts sexy and volatile, seems hell-bent on changing that. Working together—needing, living, and breathing each other—they're entwined to distraction.
Bowen's used to operating on impulse: act, don't feel. Now Macey and the controlled terror behind her beautiful eyes has him rethinking everything, including his rule to never get close to a colleague. He's willing to fight for a future with Macey, but the consequences of love could be deadly.