The Best Man's Bride by Jamie Dallas: Hailey Miller becomes a runaway bride not because she gets cold feet, but because she catches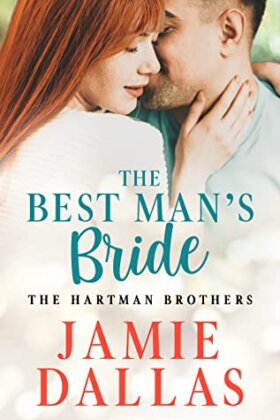 her fiancé making out with their wedding planner just an hour before the ceremony. Who comes to her rescue but Jace Hartman? Jace Hartman is her now ex's business partner and despite everything that has happened, Hailey is under contract as an event planner for the big launch that is coming up for Evan and Jace. The difficult part is Hailey needs a place to stay for a month before the launch and Jace has an extra bedroom. He has always seemed aloof, but can Hailey trust things to stay as business only?
Hailey comes across as a strong woman, but it is a little surprising to me that she didn't see Evan more closely as he really is. His family is all about appearances and so is he. Of course, there are many people, especially men, who can use charm and looks to hide their true nature. Hailey is a better woman than most at being forgiving.
Jace aloofness is a mechanism to protect himself. Our childhood can impacted us for good or bad and his has surely caused some damage. Jace carries around so much emotional baggage that it would take the largest Samsonite to handle it.
To me Evan was just despicable and entitled. Even with hope for redemption. it's hard to say if he could truly have a committed relationship.
The Best Man's Bride is the first in a series. The next novel has "cowboy" in the title, so I know it's bound to be great.As the pandemic drags on, it is so wonderful for me to read and review romances. An HEA always lifts me up and takes my mind off the ills of the world.
Book Info:

Publication: July 19, 2021 | Tule Publishing | The Hartman Brothers #1
What else can go wrong? Or is everything finally going right?
After catching her fiancé lip-locked with the wedding planner an hour before their vows, Hailey Miller hikes up her wedding dress and runs. The last person she expects to chase her down is her ex's sexy but aloof business partner who's kept her at arm's length for years. He offers her a lifeline, but his help comes with a catch. Does she dare say yes?
Jace Hartman doesn't believe in love. And he doesn't believe in giving up. He won't let his company's event planner walk away from their biggest launch—even if she has a broken heart. Business comes first, so he makes Hailey an offer she can't refuse. But it's her counter offer that has him worried. She needs a place to live for the month, and he has an extra bedroom.
Jace has spent the past few years trying his best to bury his attraction to Hailey. Now she's everywhere and making him forget all the reasons he should never mix business and pleasure.