In The Best of Adam Sharp by Graeme Simsion, A one word email was all it took to bring back twenty-two year old memories of a time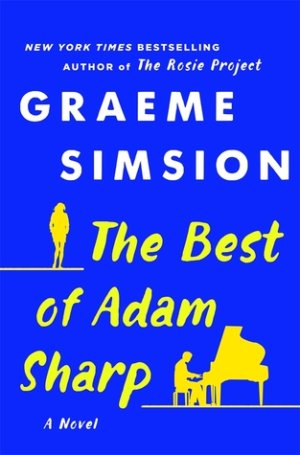 in Adam Sharp's life that revolved around music and a beautiful actress named Angelina Brown. Back then, in his mid-twenties, he had no idea what he was giving up. Or that she would always be in the back of his mind. Even now, secure in his IT job and with his partner of about two decades, Claire, Adam still finds himself wondering what would have happened if he had followed his heart with Angelina.
'I was twenty-two years older and wiser than when I last saw Angelina. If I had another chance to touch what my heart had been dreaming of, I was going to take it.'
Adam feels like he's on the cusp of making changes in his life anyway, now being in his late forties and feeling a bit restless, so Angelina's email arrived at a pivotal time. It will be up to him to decide if he should respond to the woman he fell in love with decades ago and see where it takes them. But Adam knows that no matter what happens, things will never go back to being the same way again for anyone involved.
'Whatever I had lost, there was still music.'
In The Best of Adam Sharp, Graeme Simsion once again created an affable hero, Adam, who explored his current state in life and came out the other side a new version of himself. It may not have been the outcome Adam expected, but it was where he was meant to be.
I have to start off by saying that if you're not a fan of stories involving cheating and love triangles then this book might not be for you. It crept up in the storyline a couple of times and reappeared in a big way in the second part of the novel. And I think that for me, that's why I didn't give this a higher rating. Because overall I liked the story, Simsion's writing style, and I absolutely loved the importance music played in our character's life. I just thought some of the choices that were made were a tad sketchy and seemed self-indulgent or a bit selfish.
This particular story was quite different from The Rosie Project in that I didn't feel like it was technically about romance and the fun, laugh-out-loud moments that happened as our character bumbled along. Instead, this was more of an introspective journey made by a middle-aged man who chased after the one who got away and reminisced about his Great Lost Love. I think Simsion did a nice job of letting us see what Adam was thinking, and expressing his emotions and reactions in a way that fit his analytical mind. Music was how he connected emotionally, as is probably the case for a lot of people, and Simsion was spot-on with his song choices and how he wove them into different scenes.
Our main character Adam was definitely a likable guy. He was smart, had a nice dry sense of humor. And he was a talented musician in his own right. It was interesting to watch how he had changed from when he was in his mid-twenties to now in his late forties as we went through the flashback scenes. But I have to say that as much as I liked Adam, I couldn't fully accept Angelina in his life. Past or present. Maybe it was just that she was an actress and had a tendency to be dramatic and high maintenance, but she seemed rather manipulative and flighty at times. Other readers may not have a problem with Angelina but I couldn't get past what I perceived to be selfishness on her part.
The Best of Adam Sharp was an ode to music and love lost; to second chances and self-realization. With a soundtrack that will resonate with music fans, I think this novel realistically portrayed a hero stumbling through life, learning as much about himself as the other people in his life along the way.

Book Info:

Publication: Published May 2nd 2017 | St. Martin's Press |
From the #1 bestselling author of The Rosie Project and The Rosie Effect, an unforgettable new novel about lost love and second chances
On the cusp of turning fifty, Adam Sharp likes his life. He's happy with his partner Claire, he excels in music trivia at quiz night at the local pub, he looks after his mother, and he does the occasional consulting job in IT.
But he can never quite shake off his nostalgia for what might have been: his blazing affair more than twenty years ago with an intelligent and strong-willed actress named Angelina Brown who taught him for the first time what it means to find—and then lose—love. How different might his life have been if he hadn't let her walk away?
And then, out of nowhere, from the other side of the world, Angelina gets in touch. What does she want? Does Adam dare to live dangerously?