The Billionaire Behind the Headlines by Rachael Stewart: Bree has left London behind to start over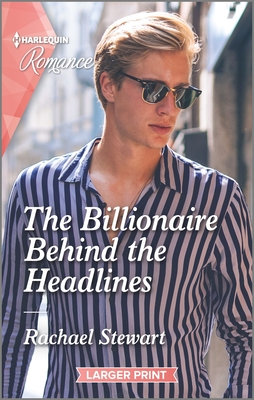 near her friend Felicity who has a B&B in the small town of Elmdale. The usually quiet area is suddenly besieged by the press. They want to ask questions about Sebastian Dubois whose last name is really Ferrington. He and his brother are heirs to the Ferrington estate after their grandfather's death . Bree and Felicity's daughter are doing their best to keep these nosy and noisy intruders at bay.
Bree works for a bakery and loves her new life trying different recipes and living a more tranquil life. On top of the annoying reporters outside, Theo Dubois aka Ferrington arrives to stay at the B&B to work with his brother to make decisions about their inheritance. Theo is drop dead gorgeous and it takes every bit of determination for Bree to stay calm and professional around him.
Theo is charming and handsome on the outside, but makes it clear he is not looking for romance. He has just gotten away from a high profile relationship and wants to hide out, too.
Bree is trying to keep her heart from being broken again, so she is hesitant to go on a trip to Paris with Theo. She has never been before and it has always been a dream of hers.
Both of the protagonists were relatable and authentically portrayed. The reader can understand how the past has colored the present for them.
Book #1 gives more background on Sebastian and Theo and what drove them away from their grandfather's home for so many years. Although this novel gives some background, I recommend reading Secrets Behind the Billionaire's Return first to truly appreciate the full storyline.
The Paris location for part of the plot is interesting. I would love to visit some day, but given my druthers a small quiet town sounds perfect.
Book Info:

Publication: July 26, 2022 | Harlequin Romance | Claiming The Ferrington Empire #2
In Rachael Stewart's latest Harlequin Romance, the second in her Claiming the Ferrington Empire duet, an invitation to Paris with a billionaire is on the cards, but only if Bree is brave enough to take it…
Can a playboy billionaire…
…capture her heart?
Bree has escaped the big city to heal her heart in a village bakery. But when notorious billionaire Theo walks through the door, emotionally guarded Bree discovers it's not just her toffee pudding that's hot and sweet! The man behind the headlines is charming but intriguingly cynical about love. Accepting his invitation to Paris could be a mistake—or the best decision she's ever made…