The Billionaire in Her Bed by Regina Kyle: A case of mistaken identities? Or is someone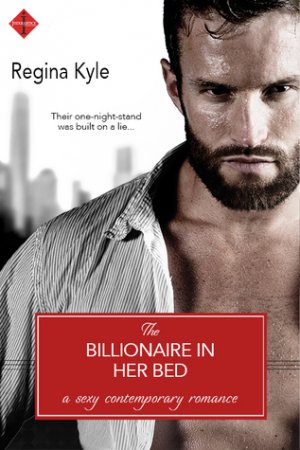 trying to hide out? Whatever the case may be it's time to just enjoy life, right?
Brooke Worthington didn't do relationships. She didn't even do feelings most of the time. She had goals and she was determined to see her dreams come true. Too many times she had been let down, too many times she hadn't stood up and made her opinion known. Now was her time, now she could do it.
Eli Ward wasn't sure what was going to happen. His life was being turned upside down and now he wasn't sure who he could trust. He just wanted to forget… at least for the night and then in the morning he could figure it out. Straighten everything out and it would all be okay.
One night turned into more when Eli walked into Brooke's meeting, how much more, that was yet to be seen. The problem was both what they wanted and what secrets might come out in the meantime.
WOW. Ms. Kyle has shown her amazing style with this sweet romance. A tinge of heat but an armful of feelings and descriptions that will leave you begging for more. Some authors have those times where everything they describe is so vivid it's like you are there. You are in New York here on the rooftops and in the cold. This is a truly masterful work you will not regret reading but you may regret not having another one that will get this close to evoking these strong feelings any time soon.

Book Info:

Publication:  September 4th 2017 | Entangled Indulgence |
Real estate mogul Eli Ward needs to keep a low profile on his new project. He's expecting a fight from the somewhat eclectic folks currently living there. What doesn't expect is for that fight to be led by Brooke Worthington, the woman who rocked his world one unforgettable night. The one woman who doesn't know who he is, which is a good thing. She just sees him as a regular guy. It's refreshing.
Graphic designer and part-time bartender Brooke Worthington refuses to follow her family's plan for her. She's too busy building her artistic career. She doesn't have time for relationships, either, especially with the super hot Eli, because she has to save the building she lives in with people she thinks of as her real family from some greedy real estate billionaire.
These two have secrets and chemistry that is nothing short of explosive.