The Billionaire's Bargain by Naima Simone is a passionate romance full of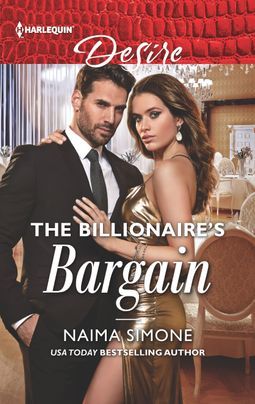 drama, family secrets and ultimately love.
Isobel was an innocent when she was swept up into a marriage with Gage, a wealthy man who turned out to be an emotional abuser. When he died unexpectedly she was freed, but also left pregnant, with a son, Aiden, whose family won't acknowledge him. Overwhelmed with bills and trying to stay afloat, she attempts to contact her former in-laws at a society event when a sudden blackout leaves her stranded in the hallway with another party guest.
Darius had spotted his enemy, his best friend's widow in the crowd but when the lights went out the soothing voice of the woman near him kept his anxiety from overwhelming him. Something about her, and the circumstances ignited a spark that resulted in an intimate encounter. When the lights come back on, it's with dismay and shock that Darius and Isobel realize what they've done.
Though Darius had been told by Gage's family, whose parents treat him like he's their son too, that the child Isobel carried was not related to them, when Darius tracks down Isobel and meets her son Aiden, he knows it's Gage's son. Seeing the circumstances Isobel and Aiden are living in, he feels he needs to honor his friend's memory and take care of them, even though he despises Isobel for what he believes she did to his friend. Yet he also feels guilty for the night they spent together, and the attraction he feels for her. He proposes marriage, though the alternative, helping Gage's family sue for custody doesn't give Isobel much choice. When Darius discovers how wrong he's been about everything, will Isobel forgive him and consider giving their relationship a real chance?
Oh, the angst! I love a story where the hero has misconceptions about the heroine that get proven wrong and he has to put in a really good grovel to make up for it. The author excels at creating drama and emotional scenes as well as strong heroines who are resilient survivors. Isobel didn't know what she was getting into with Gage, but when his family made him chose her or them, he chose her but soon came to resent the lack of money and status that choice came with. As such he started to badmouth Isobel behind her back, belittle her and cheat on her with other women. When he died while Isobel was pregnant, she tried to contact his family but they wanted nothing to do with her, or her son.
Darius never knew that side of his best friend, a man who had saved his life and so he believed everything Gage said. Yet now in Isobel's circle, and seeing how she is as a mother to Aiden, he can't reconcile everything he's been told with what is in front of him – a caring, gentle and compassionate woman. He feels guilty about his attraction to her too, but it doesn't stop him from rekindling the passion they felt when they were in the dark and unknown to each other. They share more sexy scenes as they start to open up to each other and Darius discovers Isobel is not the woman he thought. He starts to bond right away with Aiden who also takes to Darius very easily, a fact that makes Isobel happier about agreeing to marry Darius for Aiden's sake.
Gage's family does not go easy on Darius for his choice to reconnect with Isobel, or on Isobel herself, a fact that infuriates Darius as he gets to really know her. He's torn between loyalty to the Wells family for all they've done to him, and the increasing realization that he's been wrong about Isobel, and that his friend wasn't the man he thought. He realizes that his happiness will lie with Isobel and he has to make concrete steps to show her that he's worthy of her trust and love after making some serious judgment errors. Fortunately, Isobel is the forgiving type and they get their emotional happy ending, complete with a sweet epilogue. It's a compelling page turner from start to finish!
Book Info:

Publication: Jun 01, 2019 | Harlequin Desire | Blackout Billionaires #1
In the dark, he kisses her…
Not knowing who she really is….
When a blackout hits Chicago, billionaire Darius King makes the most of it with an irresistible stranger. But then the lights reveal the woman in his arms is the woman he hates—his best friend's widow! His new plan: entice her into marriage to protect his friend's legacy. But wild attraction and explosive secrets could make that arrangement very inconvenient…