The Bookish Life of Nina Hill by Abbi Waxman Nina believes she's living her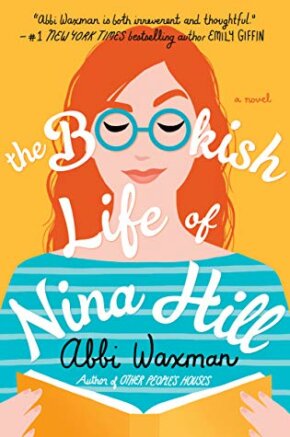 best life between working at the neighborhood bookstore, running book clubs, her trivia team, and her cat, Phil. She's more comfortable with fictional characters and worlds than she is with people where she's awkward, anxious, and prone to panic attacks. She's very well read and is a master of trivia.
Nina's life is upended when she's learns that the father she never knew is dead. She suddenly inherits a whole host of family members she never knew existed and they're all local. Nina isn't exactly great with change, so this significantly alters her world and plans. At the same time, she's getting to know Tom, a fellow trivia bowl contestant on an opposing team.
She struggles to accept and accommodate all these changes in her well-ordered and planned world, where it sometimes goes better than planned and sometimes blows up in her face. She's intrigued by both her new family and by Tom, but she's not always as smooth as she wishes she could be.
"I'd like to see you again."
Nina inclined her head regally. "I'm prepared to consider it."
"Don't overwhelm me with enthusiasm."
"OK."
"Bye, then."
While getting to know her extended family is daunting, she also learns a lot about herself and the father she never had a chance to know. Between trivia nights and other matchmaking attempts, Nina finds herself with the possibility of a relationship with Tom. He's smart, attractive, sometimes awkward, and not a reader. He's caring, sweet, and makes her feel less anxious while tempting her to explore the world outside the pages of a book.
Finally, he let her go and said, "You are a complete lunatic, Nina Hill, and I doubt I will ever have any idea what's going on in your head."
Nina caught her breath and nodded. "It's probably just as well," she said, although right at the moment, he was the only thing in her head. No need to tell him that, of course.
The Bookish Life of Nina Hill is sweet, funny, and endearing. Abbi Waxman created an engaging story with good character development and some interesting surprises. Ms. Waxman created an array of diverse and entertaining characters in Nina's friends, family, co-workers, and trivia enthusiasts. Fans of Beth Kendrick and Teri Wilson will enjoy The Bookish Life of Nina Hill.
Book Info:

Publication: July 9th 2019 | Berkley |
The only child of a single mother, Nina has her life just as she wants it: a job in a bookstore, a kick-butt trivia team, a world-class planner and a cat named Phil. If she sometimes suspects there might be more to life than reading, she just shrugs and picks up a new book.
When the father Nina never knew existed suddenly dies, leaving behind innumerable sisters, brothers, nieces, and nephews, Nina is horrified. They all live close by! They're all—or mostly all—excited to meet her! She'll have to Speak. To. Strangers. It's a disaster! And as if that wasn't enough, Tom, her trivia nemesis, has turned out to be cute, funny, and deeply interested in getting to know her. Doesn't he realize what a terrible idea that is?
Nina considers her options.
1. Completely change her name and appearance. (Too drastic, plus she likes her hair.)
2. Flee to a deserted island. (Hard pass, see: coffee).
3. Hide in a corner of her apartment and rock back and forth. (Already doing it.)
It's time for Nina to come out of her comfortable shell, but she isn't convinced real life could ever live up to fiction. It's going to take a brand-new family, a persistent suitor, and the combined effects of ice cream and trivia to make her turn her own fresh page.