The Billionaires by Calista Fox brings together three people in an emotional, well-developed tale filled with love, sex, and betrayal.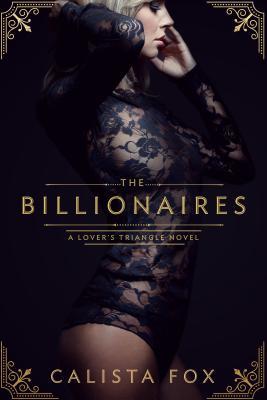 Jewel and Rogen's family used to be as close as could be, but something happened that changed all that. Vin was taken in by Rogen's family, so his loyalty is to them. Before they had a fallout, Jewel and Rogen were together, but then Rogen was sent away and Jewel became closer to Vin. But again, something happens and all of a sudden Vin splits and Jewel is left alone. Years later, all three of them are in the same place at the same time and the sparks are still as wild as ever, for all three of them.
"I'll never claim we were fated in a good way, because of all the bullshit we've endured. But you can't deny our current destiny."
Vin and Rogen bring out different sides in Jewel. She needs both of them to feel whole. She can't have one and not the other. The only way to do that is to accept both of them into bed, at the same time. Both are already in heart, so why not her bed?
Vin makes Jewel crazy. Rogen is the softer of the two and makes love to Jewel. Vin's passion for Jewel is overwhelming and powerful. Once they are together, the heat between them only boils over, until they are tearing their clothes off of each other. Rogen and Vin clearly have different styles and Jewel needs both of them to keep her heart intact. But when their families find out will anyone be left standing or will the fantasy be over for all three of them?
This book is seriously hot! The steam isn't the only thing I loved about this book, it's the characters that won me over. Jewel, Rogen, and Vin go through so much hurt and angst, that you feel it through the pages and I LOVED every moment of it. If you enjoy love triangles or are a big fan of the friends to lover's trope, definitely pick this book up. It's impossible to put down!

Book Info:

Publication: April 4th 2017 | St. Martin's Griffin | Lover's Triangle #1
100 Shades of Sin…
In The Billionaires, Calista Fox delivers a sexy and sensuous friends-to-lovers tale with a delicious love triangle twist.
Jewel Catalano, Rogen Angelini, and Vin D'Angelo had been childhood best friends, spending every possible moment with one another. Rogen became her first love, the first one to show her what pleasure could be. Until a volatile feud erupted between their powerful California wine country families and she and Rogen were torn apart from each other. What she didn't expect was to find comfort and passion like she had never known in Vin's arms and bed. But when that too ended in disaster, Jewel moved to San Francisco to work for the Catalano empire. Years later, a series of daring acquisitions brings Jewel back to River Cross, the hometown where Rogen and Vin have recently returned as well. Jewel has the curves, the smarts, and the success to bring any man to his knees—especially the two men who remained best friends and still burn to possess her.
Mixing family business with erotic pleasure ignites a smoldering love triangle. But in order to pull off the bold deal that will build the trios' own legacy and to stay in their heady, sensual paradise, they must discover what true love really is—or lose everything their hearts' desire, in The Billionaires by Calista Fox.