In The Rule Maker (Rule Breakers #2) by Jennifer Blackwood, Zoe Reynolds knows she shouldn't allow herself to deviate from the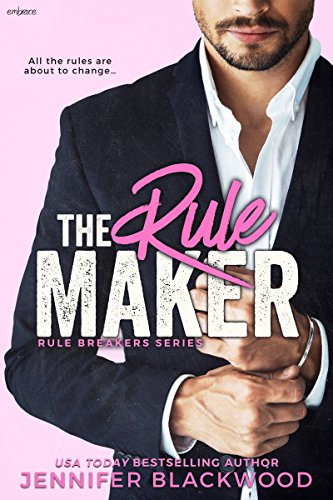 rules she set for dealing with clients, but when it comes to Ryder Covington, it seems all her common sense goes out the window. When he becomes her client and they begin working together to redesign the resort Ryder's brother recently bought, can Zoey remain professional or will Ryder break her heart all over again, if she decides to give him a second chance?
="Carbs are being ingested, hangry crisis averted. What's up with Shirtless Dude?" Ryder would forever be known as Shirtless Dude to Lainey because she'd interrupted us by coming home early one weekend. If only she'd had that same great timing the night I slept with Ryder—then I wouldn't be in this mess.
"It turns out he's my client now."
Her mouth opened, chips and guac in full view. "Shut the front door."
"Front door is wide open and Ryder is a knockin'."
"Wow. He's really messed with your head if you're pulling out the dad jokes for me."=
Ms. Blackwood always manages to amuse me with her writing, especially when it comes to this series where the characters manage to break all their rules and have fun on their journey to happy ever after, and I found this book was just as fantastic as The Rule Book (Book 1 of this series). From the start to finish, this book was captivating, fast-paced and provided quite a few laughs due to the Would You Rather game Zoe and Ryder play, the threats Zoe's best friend Lainey isn't afraid to issue to the hero and the various trouble Zoe finds herself in because she's a magnet for disaster. The moment with the goat was a total hoot.
"Pro snowboarder and a goat whisperer? Is there anything you can't do?"
"I'm only fluent in Goat. If she were a sheep, all bets would be off." He looked over and smiled at me. "And I am horrible at table tennis and always manage to overcook my scrambled eggs, in case you were thinking I was too perfect." He winked.
"Subpar Ping-pong skills and rubbery eggs. Definitely a deal breaker for most people."=
Both the main characters as well as the secondary ones had me completely hooked and made this story a real page turner. Zoe is strong, brave and I liked how sassy she is. Ryder really hurt her with what he did when they were together in the past and she finds it hard to give him another chance, knowing that he may hurt her again. Yet, at the same time, there was no way she could resist him. His charm and confidence could certainly coax a woman down on her luck and turn a frown into a smile. But what I liked most of all about Zoe was her zest for her job and life itself. Why should she be scared to attempt something Ryder is passionate about, especially with him by her side?
While Ryder, he's been through so much with his injury and I could empathize with him that he might not be able to return to the sport which has made him a household name. What will he do if he can't return? But most of all what I liked about the hero was how determined he was to beat his injury and win Zoe's heart. She's the only woman who has ever made him question his stance on relationships, and I was pleased by the decisions he made, especially when it came to his family and his future.
=Her fingers intertwined with my own as I drive her up to the resort. "Aren't you even going to give me a little hint as to why you're bringing me up here?"
"Nope. Would you rather enjoy the surprise or stare daggers in my direction the rest of the car ride?"
She pouted. "You're no fun."
"I remember you singing a different tune last night," I said.=
Overall, I enjoy any opportunity that I get to dive into one of Ms. Blackwood's books, and this one was no different. Ryder and Zoe have really strong chemistry that spilled over onto the pages in hot, nicely-detailed sex scenes, which illustrate that giving someone a second chance can be the best decision. The way this story ended left me shocked and wanting to throttle Ryder's grandmother. However, in saying that, I loved the way Ryder made things right between him and Zoe. Who knew having a trust fund would come in so handy? I would highly recommend The Rule Maker by Jennifer Blackwood, especially if you enjoy the second chance romance trope.
Book Info:

Publication: January 16th, 2017 | Entangled Publishing | Rule Breakers #2
Ten Steps to Surviving a New Job:
1. Don't sleep with the client. It'll get you fired. (Sounds easy enough.)
2. Don't blink when new client turns out to be former one-night stand.
3. Don't call same client a jerk for never texting you back.
4. Don't believe client when he says he really, really wanted to call.
5. Remember, the client is always right—so you can't junk punch him when he demands new design after new design.
6. Ignore accelerated heartbeat every time sexy client walks into room.
7. Definitely ignore client's large hands. They just mean he wears big gloves.
8. Don't let client's charm wear you down. Be strong.
9. Whatever you do, don't fall for the client. You'll lose more than your job—maybe even your heart.
10. If all else fails, see rule number one again.