The Billionaire's Christmas Cinderella by Carol Marinelli is a sweet and sensual holiday romance for a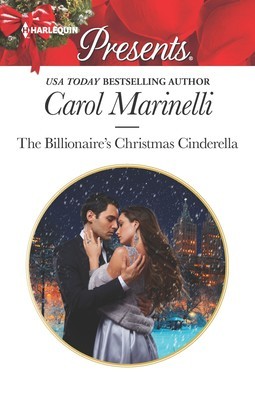 hardened businessman and the baby nanny who captures his heart!
Naomi has come to New York to help her friend Merida with her newborn baby. She specializes in care for new babies and has no home base, moving from one job to the next but never sticking around for long. She grew up in a series of foster homes so she knows that getting attached only leads to heartbreak. Staying in the Devereux family home while Merida is in the hospital, she soon meets Merida's brother-in-law, Abe.
Abe isn't expecting any visitors when he decides to stay overnight at his father's house. There have been a lot of changes in his life lately, with his brother getting married and having a baby with his new wife, and his father dying in the hospital. When he discovers it's Naomi, Merida's friend and the new nanny, he finds himself intrigued by her. Her innocence and fresh outlook on life strike a chord with him, and he finds himself doing things he never thought he'd enjoy, like shopping for baby gifts and seeing the Christmas sights with her. And he finds himself confiding in her too. Can a sweet lady break the shell of loneliness around a cold billionaire's heart?
This is a very enjoyable romance combining lovely Christmas scenes with a Cinderella story. It's the sequel to Merida and Ethan Devereux's romance in The Innocent's Shock Pregnancy which I also liked. Naomi and Abe are clearly from very different backgrounds but Naomi isn't interested in Abe's money or taking advantage of him. She knows money isn't everything and encourages Abe to think about what kind of uncle he wants to be to his new niece and reminds him that work is no substitute for affection and time spent with loved ones.
Naomi is innocent and this is a slow burn romance as Naomi and Abe connect emotionally before sharing some sensual scenes. New York is a beautiful setting for the Christmas theme and there's a ball for this modern day Cinderella to enjoy while making her 'prince' realize what he'll be missing if he doesn't find a way to keep her in his life before she moves on. Abe's family welcomes Naomi with open arms and there's a lovely happy ending for this couple. It's a great holiday romance!
Book Info:

Publication: Nov 20, 2018 | Harlequin Presents | The Ruthless Devereux Brothers miniseries #2
She's as pure as winter snow…
Can her innocence redeem him?
Charismatic Manhattan tycoon Abe Devereux is famed for his cold heart. So meeting compassionate nanny Naomi, who's determined to see the good in him, is a novelty—as is the potency of their undeniable connection! Abe is notoriously merciless, and he wants this shy Cinderella between his sheets by Christmas. But will seducing gentle Naomi be Abe's biggest risk, or his greatest chance of redemption?
Lose yourself in this captivating Cinderella romance!