The The Billionaire's Secret Princess by Caitlin Crews is the second story in the Scandalous Royal Brides duology. It's about identical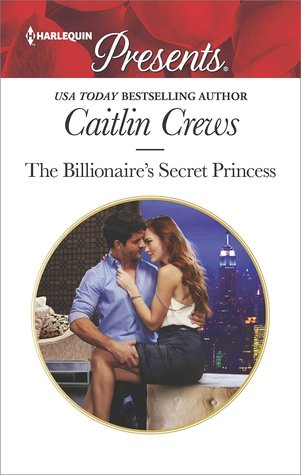 twins separated at birth who are unaware of each other's existence until they run into each other by happenstance in an airport bathroom. Both are unhappy with their current situations and agree to switch places for a six week period, to see how the other half lives, so to speak. In The Prince's Nine-Month Scandal, Natalie became Princess Valentina of Murin and fell in love with the Princess's betrothed Crown Prince Rudolfo. Now Princess Valentina gets her turn to experience what life is like as the indispensable personal assistant to wealthy self made Greek billionaire Achilles Casilieris.
Valentina knows that she'll have her work cut out for her fooling her new boss into thinking she's really his assistant Natalie, but she's game to try. Anything that will get her out of her arranged marriage, or at least a taste of the freedom of living life not as a royal family member is worth a shot. While she quickly picks up the role Natalie plays in Achilles life, she's not prepared for the intense attraction she feels towards him.
Achilles knows almost right away that something is different about the beautiful, composed, and somewhat forthright woman in front of him who'd never have dared contradict him before now. A quick internet search reveals the truth, or at least part of it – that the woman with him now is not his assistant but really a Princess. Determined to beat her at her own game, Achilles isn't shy about testing her limits. But whereas he was never attracted to Natalie, he can't keep his eyes off of Valentina. It's not long before they are involved in an intense affair. Valentina knows her time with Achilles is limited. Will this Princess get her true happy ever after or does love only exist in fairy tales?
I loved this story! After reading and enjoying Natalie's story, I was eager to read Valentina's and found it to be an excellent companion novel. They are both well written as standalone stories, with enough detail in each to explain their predicaments, but I definitely recommend both of them equally. The author does a good job of enabling Valentina and Natalie to have both had to manage in high society and high pressure situations such that the switch in their positions is plausible, if a fanciful notion.
Valentina tries valiantly to improve the working relationship Natalie will have with Achilles when their experiment is over. Achilles is bossy and arrogant and entitled, which isn't surprising considering his less than ideal upbringing and that he's had to fight for what he has. But he wouldn't be hero material if he didn't also have some more personally endearing qualities. Little does Valentina know that Achilles already knows who she is, and he certainly admires her tenacity and ability to think on her feet. He respects her even as he finds himself attracted to her. They share some very sexy and sensual love scenes that make Valentina realize she is quickly getting in over her head. Achilles makes Valentina feel validated and desired for the woman she is underneath the trappings of a royal lineage.
The conflict that comes about is fairly predictable but in the end Valentina and Achilles get their well deserved happy ending. As well, Valentina and Natalie can begin to develop their true bond as sisters, which is a lovely side effect of their chance meeting. The Billionaire's Secret Princess is a sexy and entertaining romance and a great companion story to The Prince's Nine-Month Scandal.

Book Info:

Publication: June 20, 2017 | Harlequin Presents | Scandalous Royal Brides #2
She must obey his command…
Desperate to escape her stifling royal life, Princess Valentina swaps places with her newly discovered identical twin. But fooling her billionaire "boss" Achilles Casilieris is harder than Valentina imagined…especially when his every look makes her burn with longing!
When closed-off Achilles discovers the game Valentina's playing, he's furious. But now the power is in his hands: it's only a matter of time before her stunning facade cracks. He'll push this perfect princess to her very limits…and he's not afraid to use the full force of their attraction!