The Black Sheep's Inheritance by Maureen Child: At the reading of his adoptive father's will, Sage Lassiter is surprised to learn that his father has left millions of dollars to his private nurse as well as denying Sage's sister Angie the company she was groomed to take over. Although everyone in the family is upset at the snub to Angie, they are assured that J.D. Lassiter was in his right mind when the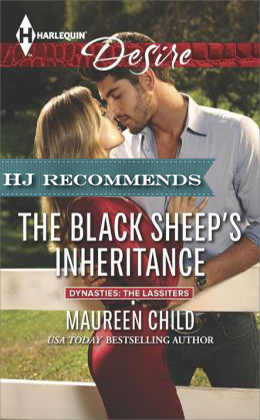 will was written, and that contesting the will could void the other family members' inheritances.
"She had been devoted to J.D., had earned the family's affections–yet through it all had remained a bit of a mystery. Where was she from? Why had she taken a job working for a grumpy old man on a remote, if luxurious, ranch? And why the hell did he care?
Sage isn't convinced that the will is above board, and he's frustrated with his father's attorney for keeping parts of the will secret from the family. Sage is determined to find a way to get Angie her inheritance–and he zeros in on the seemingly innocent nurse, Colleen Falkner, as a possible source of information as to J.D.'s motive and mindset at the time the will was written. He's willing to use any weapon at his disposal to get the information he wants, including the explosive chemistry between them. There's no way that Sage isn't going to get burned, playing with fire as he is. Will romancing Colleen yield the results he's looking for, or will he just succeed in losing a good thing?
The Black Sheep's Inheritance by Maureen Child is a beautifully written book writhe with sexual tension. Everyone but the bullheaded Sage can see that Colleen wouldn't hurt a fly, and that his focus on her has more to do with his attraction to her than any information she might have about J.D.'s will. Even though Colleen does seem a bit to good to be true, it's evident early on that her Pollyanna exterior isn't an act. The fact you can tell where this is going pretty early on should make The Black Sheep's Inheritance a bland read, but it doesn't. Ms. Child's use of language and sexual tension makes all of that fade into the background. The mystery of J.D.'s will, Sage's blindness to his own motives, and Colleen's issues with self-esteem provide enough context for this love story to be played out in, but the main focus is the attraction, and eventually, the love between Sage and Colleen.
The Black Sheep's Inheritance is the first book in the Dynasties: The Lassiters series, and Ms. Child does a great job of introducing the major players and setting up the conflict. This is a strong first book in a series. I would recommend The Black Sheep's Inheritance to anyone looking for a read filled with sexual tension, beautiful writing, an oblivious but loveable man seeking to do right by his sister, and a woman more than deserving of her own happily ever after.
Book Info:
Published April 1st 2014 by Harlequin Desire Series #2294
Follow the money…into bed!
Estranged from his adoptive father, Sage Lassiter earned his own billions. But when J.D. Lassiter leaves a fortune to his private nurse in his will and cheats his own daughter of her rightful inheritance…Sage is enraged, to say the least. He's sure nurse Colleen Falkner isn't the innocent she appears. And he's willing to go to any lengths to expose her…even seduction.
But using sex—crazed, incredible sex—to find out what she knows could backfire. Because Colleen is not what Sage expected. And like it or not, she's about to demolish all the barriers he's carefully constructed around his heart.