The Mighty Quinns: Malcolm, by Kate Hoffmann, is a winning combination of exciting adventure and romance. The captivating prologue pulled me into this engaging story with characters that are likeable, interesting and genuine. This is a sweet and sexy read that kept me entertained from start to finish.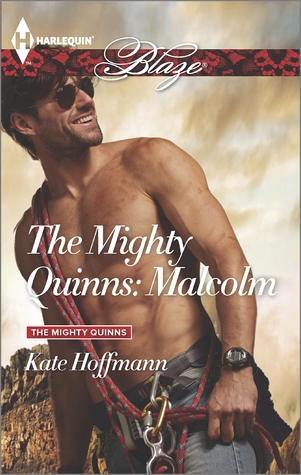 Amy Engalls is a talented copy editor that desperately seeks the approval of her arrogant father, a wealthy magazine publisher and wilderness explorer. She has spent many years trying to live up to her father's illogical expectations and notions, without even a speck of recognition for a job well done. Working for the explorer publication is not her first, second or tenth choice, yet she sticks with it anyway because that is want her father wants.
In order for Amy to prove to her father that she is worthy of a promotion, she needs to write an expose about a daring expedition or journey, and she believes adventurer Malcolm Quinn is the key to her success. So she travels from New York City to New Zealand in hopes of snagging an interview with him. You see, Malcolm's dad was a world renowned wilderness explorer, who died mysteriously during a Mt. Everest expedition about twenty years ago. His body was recently discovered and as a result, there are reporters everywhere, attempting to dredge up the past and get the current scoop from Malcolm, his twin brothers, his sister and his mother. Amy just happens to be at the right place at the right time and captures Malcolm's attention.
Malcolm is a courageous guy and he and his family work very hard to keep their expedition business afloat. They went through some tough times when their father died and their grief is still fresh after so many years gone by. Malcolm believes he is not the type to settle down, however, Amy changes his way of thinking very quickly.
There is an instant chemistry between Amy and Malcolm when they meet for the first time. So much so that they begin to see each other, even though Malcolm refuses to give her an interview. Over a two week period, they get to know each other, experience the best sex of their lives, and fall in love. Malcolm even takes Amy on a mini-expedition, where she conquers her fears and gains confidence in herself. She even goes bungee jumping, which is truly an accomplishment considering she is afraid of heights.
Amy and Malcolm are a fun couple. Their banter is amusing, they communicate well, share intimate meals and challenge one another. I liked them as individuals as well. This is a good, easy to read book, and with so many Quinns' being discovered, the series can go on for a long time. Believe it or not, Ms. Hoffman began "The Mighty Quinns" in 2001 and it is still as popular as ever.
Book Info:

Publication: April 1st 2014 by Harlequin Blaze Series #794
Her guide to adventure…in and out of the bedroom
New Zealand wilderness guide Malcolm Quinn is stunned to learn that his father's body—lost near the summit of Everest almost twenty years ago—has been found. The discovery stirs up painful memories for Mal, and brings eager reporters out in droves. He is ready to resist them all, until he meets the pretty little Yank who turns his blood to liquid lust….
Amy Engalls needs this story to make her career, but Mal refuses to be interviewed. Instead the gorgeous Quinn offers Amy the kind of adventure she'll never forget. She accepts, realizing she may be jeopardizing her future for a short-term fantasy. By breaking the rules, will she lose everything…including her heart?