The Boardwalk Bookshop by Susan Mallery: Bree, Mikki and Ashley started just sharing a space for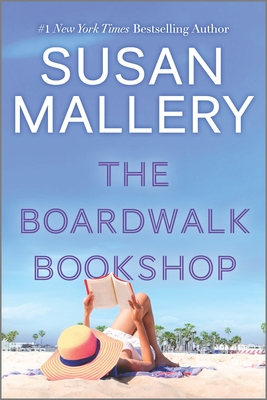 their businesses. A friendship blossomed between the three, but now with rocky waters in their love lives they have to decide how to help each other through.
Bree has been closed off from love due to her parents and deceased husband. They did not show affection and toyed with her feelings causing her to not trust herself let alone others. When she is pursued by the handsome brother of Ashley, she tries to keep him at arm's length to protect herself. What she doesn't expect is how he reacts to that. She expects him to be like all the others and be okay with her hookup rule that she has in place. Instead, she finds that she enjoys his company and wants to talk to him about everything.
Mikki is a divorcee who has managed to excel at coparenting with her ex-husband. They still spend time together regularly not just with their kids. When Mikki decides that she is ready to get back into the dating pool, she comes across a man who has a daughter that used to be friends with hers. As she throws herself into her new relationship, she finds that maybe her ex-husband doesn't see their relationship the same way. She has to decide what her heart wants and who it wants before too late.
Ashley has been with her boyfriend for years and looks forward to the next step of their relationship. When he drops a bomb that he is not planning on ever getting married, she has to regroup. The two of them try to work things out by looking at the opposite side of the coin, but Ashley is still torn. She knows that he loves her and wants to be with her, but doesn't know if losing the security of marriage is worth it.
Overall, I loved loved loved the book! I loved all three main characters and yearned to see how their stories turned out. The three main characters has complete storylines, but never took away from each other. It was refreshing to see how the three of them worked with each other and supported each other on their journeys.
Also side note: my grandma ended up reading this book at the same time as me. I found out because I normally recommend the books I think she would like so she can add them to her TBR list. Her reaction was "I love it too! Especially Mikki and Earl!" which means the book is suitable for all ages and everyone can laugh at it and cry with it at multiple parts.
Book Info:

Publication: May 31, 2022 | MIRA |
From #1 New York Times bestselling author Susan Mallery—a story of friends who become family, giving each other courage to start over…
When fate brings three strangers to a charming space for lease on the California coast, the Boardwalk Bookshop is born. Part bookstore, part gift shop, part bakery, it's a dream come true for Bree, Mikki and Ashley. But while their business is thriving, their personal lives are…not.
Bree, wounded by brilliant but cold parents and her late husband's ultimate betrayal, has sworn to protect her heart at all costs. Even from Ashley's brother, a writer and adventurer who has inspired millions. He's the first man to see past Bree's barricades to her true self, which terrifies her. Mikki has this divorce thing all figured out—somehow, she's stayed friends with her ex and her in-laws…until a new man changes how everyone looks at her, and how she sees herself. Meanwhile, Ashley discovers that the love of her life never intends to marry. Can she live without being a wife if it means she can have everything else she's ever wanted?
At sunset every Friday on the beach in front of the Boardwalk Bookshop, the three friends share a champagne toast. As their bond grows closer, they challenge one another to become the best versions of themselves in this heartachingly beautiful story of friendship, sisterhood and the transformative power of love.