In The Book of Lost Names by Kristin Harmel, As a French-born Jew, Eva Traub's parents, formerly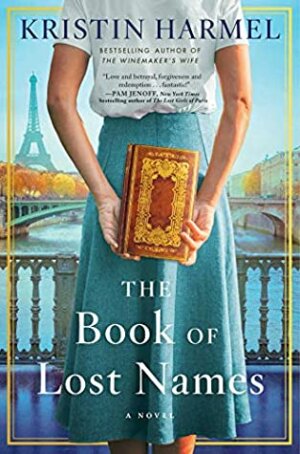 from Poland, thought they were saving their daughter from a life of degradation and possible harm by moving to Paris. But in 1942 as World War II finds even their beloved city occupied by the Nazis, Eva and her family are not safe. And that becomes abundantly clear when her father is arrested by the Germans. Forced to leave the only home she has ever known, Eva and her mother flee for the Free Zone near the Switzerland border. But they had no idea what dangers they would encounter on their journey to freedom.
'Maybe it was too late to save anyone. Maybe there was nothing Eva could do. But how could she forgive herself if she didn't try?'
Many decades later, Eva–now a librarian in the States nearing retirement–can still remember the Book of Lost Names she and Remy, a beautiful, mysterious man created back in the small village of Aurignon. A place that became a makeshift home for Eva and her mother once they left Paris. Soon after their arrival, she was in the middle of helping the resistance by moving people–the majority of whom were children–to Switzerland by way of forging fake identity papers. Eva couldn't abide by the children losing their real names so she and Remy created a code they entered into a religious text to preserve the information safely. Only for the book to fall into Nazi hands toward the end of the war. But when it is found years later and the code uncovered but still unsolved, Eva knows it's time to step forward one more time to help those she promised to keep safe.
"None of these children deserve what's happening to them. Helping them makes me feel like I can bring some light to the world, even in the midst of all the darkness."
The Book of Lost Names was yet another incredibly moving novel set mainly in the WWII era by master storyteller Kristin Harmel. It was a story which showed that even in the middle of chaos and pain there is hope and, yes, even love to be found.
'Her family had no idea she had been a fighter for France, a forger who had saved hundreds of lives, a woman who had once loved with her whole heart.'
I've read a couple of Kristin Harmel's novels now and I'm always struck by the way she blends actual facts from WWII into a fictional story, making it seem utterly real. The Book of Lost Names had a dual timeline as I've come to expect from her work, set during WWII and in 2005, told strictly from Eva's POV. I was so pleased that there was actually a happy ending of sorts here compared to the bittersweet conclusions in the other books I've read–one that had me misty-eyed in a good way. Although it was a tough journey to get to that point for our heroine Eva.
After beginning with a chapter set in 2005 when Eva finds out the Book of Lost Names had been discovered, we then followed Eva and her parents, starting in 1942 Paris as many Jews were being rounded up and sent to labor camps. It was harrowing, somber, and heartbreaking. Harmel did a convincing job of conveying the emotions Eva and those around her would have had during such a devastating time. And that carried throughout the book as Eva tried to not only make it to the Free Zone in Switzerland, but when she got swept up in helping the resistance.
Based on real women who forged documents and identification papers during WWII, it was so interesting to see one more way in which women were able to assist the resistance. Harmel showed us Eva's strength with every decision she made to help others and with each new friendship she forged–even later on in life after the war. It was dangerous, with some heart wrenching moments that will have readers' pulses thudding wildly. But Eva's bravery paid off in the end. As it did for those she met who stood up against the Nazis and fought to take back France.
A story of courage and perseverance, The Book of Lost Names is the type of novel that will linger in readers' minds long after the last page is read. Highly recommended.
Book Info:

Publication: July 21st 2020 | Gallery Books |
Inspired by an astonishing true story from World War II, a young woman with a talent for forgery helps hundreds of Jewish children flee the Nazis in this unforgettable historical novel from the international bestselling author of the "epic and heart-wrenching World War II tale" (Alyson Noel, #1 New York Times bestselling author) The Winemaker's Wife.
Eva Traube Abrams, a semi-retired librarian in Florida, is shelving books one morning when her eyes lock on a photograph in a magazine lying open nearby. She freezes; it's an image of a book she hasn't seen in sixty-five years—a book she recognizes as The Book of Lost Names.
The accompanying article discusses the looting of libraries by the Nazis across Europe during World War II—an experience Eva remembers well—and the search to reunite people with the texts taken from them so long ago. The book in the photograph, an eighteenth-century religious text thought to have been taken from France in the waning days of the war, is one of the most fascinating cases. Now housed in Berlin's Zentral- und Landesbibliothek library, it appears to contain some sort of code, but researchers don't know where it came from—or what the code means. Only Eva holds the answer—but will she have the strength to revisit old memories and help reunite those lost during the war?
As a graduate student in 1942, Eva was forced to flee Paris after the arrest of her father, a Polish Jew. Finding refuge in a small mountain town in the Free Zone, she begins forging identity documents for Jewish children fleeing to neutral Switzerland. But erasing people comes with a price, and along with a mysterious, handsome forger named Rémy, Eva decides she must find a way to preserve the real names of the children who are too young to remember who they really are. The records they keep in The Book of Lost Names will become even more vital when the resistance cell they work for is betrayed and Rémy disappears.
An engaging and evocative novel reminiscent of The Lost Girls of Paris and The Alice Network, The Book of Lost Names is a testament to the resilience of the human spirit and the power of bravery and love in the face of evil.