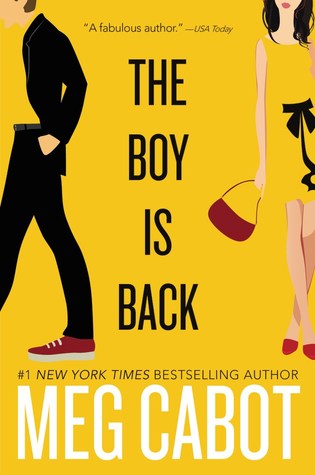 In The Boy Is Back (Boy #4) by Meg Cabot, It's been ten years since Reed Stewart has been back to his hometown of Bloomville, Indiana. Ever since the infamous fight between him and his father, Judge Richard P. Stewart, he's been on the road, working his way up as a successful pro-golfer. But Reed hates the way things were left between them. And that he still hasn't apologized to his former high school sweetheart, Becky Flowers. But a message from his brother Marshall about their aging parents' recent public antics has Reed heading back to Bloomville. This is the perfect opportunity to regroup, get his flagging golf game back, and find closure to his past. But he didn't realize how complicated things might get in his attempt to right past wrongs.
REED: What if I want to be more than friends?
BECKY: Well, you might want to start by not dropping out of your friends' lives without a word and then showing up again ten years later expecting to pick up where you left off as if nothing happened.
REED: Okay. Good point. I might have a little work to do on my friendship skills.
Becky has thankfully been too busy with the family business, a moving company specializing in assisting seniors, to dwell on the past. Or on ex-boyfriend Reed, specifically. She even has a boyfriend, a truly nice guy, for the first time in forever. Why is it, then, when she hears Reed will be coming home to help figure out a few family issues is she suddenly thrown into a tailspin? Becky gets pulled further into the past when her moving company is recruited by the Stewarts to straighten out their home and living situation. While she would do anything for the local judge and his wife who have treated her so well, she's not sure she should give a second chance to the boy who once broke her heart.
Leeanne Matsumori 17:29 PM Guarding your heart is one thing. But it's like you think your heart is one of your client's vases, or something. You've put so much bubble wrap around it that you can't even enjoy it anymore.
Becky Flowers 17:30 PM Well, I don't want to risk giving my heart to someone who's going to abuse it. Again.
Highly amusing and completely charming, The Boy Is Back was a terrific new offering by popular author Meg Cabot. Told entirely through emails, texts, Amazon reviews (right?!), journal entries, chat sessions, and newspaper articles, the fun formatting was only part of why this second chance romance had me constantly chuckling.
Now I'm sure this book probably won't be a perfect fit for everyone given that some may find it too choppy to follow along. But I personally thought the format was perfect for this particular romance. It was modern, entertaining, and moved along at a fast past. I loved that even though it wasn't written in a traditional style, there was still plenty of emotion, family drama, career woes, and small town gossip to make the story feel full and rich.
Becky and Reed were our main characters. And they had a complicated history that kept them apart for ten years until Reed was called back home to help deal with his aging parents. The reason they broke apart on Prom night was revealed slowly as the story progressed and painted a picture of how much Becky and Reed cared for each other back then. I thought they were a great match. She was organized, methodical, and a truly compassionate woman who loved her town and her family to pieces. He was a former driven athlete who had sort of lost his way a bit and was torn when it came to his family. So Reed and Becky were kind of like two different sides of the same coin, now finally able to help each other find their way and have a more fulfilling life.
There were a lot of secondary characters who were just as important to the story as Reed and Becky were. From her sister and their mom, to his siblings, uncle, and eccentric parents, plus tons of townsfolk getting into the middle of things, there was no shortage of quirky characters to enjoy. Some of my favorite parts were actually the texts and emails between Reed, his brother Marshall, and Marshall's wife Carly. Oh. My. Goodness. Those had me cracking up. They were so spot-on with the realistic tension and teasing found between family members. Well, that and how Marshall kept trying to swear in his texts but 'stupid autocorrect' kept changing the words. Seriously…I was giggle-snorting over those scenes!
(Text) Marshall 1:27 PM Dude where are you? Mom and Dad got arrested. MOM AND DAD ARE IN JAIL. Pick the fudge up. I mean fudge. I mean fudge. I HATE THIS PHONE.
Reunion romances don't get much cuter than this. If you're looking for something rather lighthearted–but still heartfelt–that will make you laugh a lot and sigh a little, I highly recommend checking out The Boy Is Back. Readers are sure to have a wonderful time with this one.
Book Info:

 Expected publication: October 18th 2016 | by William Morrow Paperbacks | Boy #4
From New York Times bestselling author Meg Cabot comes the sweetly humorous story of a man who has to face his past in order to find his future.
Sometimes to move forward, you have to go back…
One post. That's all it took to destroy the care free, glamorous life of pro golfer Reed Stewart. One tiny post on the Internet.
Then again, it's not like Reed's been winning many tournaments lately, and his uncle isn't the only one who says it's because of the unfinished business he left behind back home in Bloomville, Indiana—namely Reed's father, the Honorable Judge Richard P. Stewart, and the only girl Reed ever loved, Becky Flowers.
But Reed hasn't spoken to either his father or Becky in over a decade.
Until that post on the Internet. Suddenly, Reed's family has become a national laughingstock, his publicist won't stop calling, his siblings are begging for help, and Reed realizes he has no other choice: He's got to go home to face his past . . . the Judge and the girl he left behind.
Becky's worked hard to build her successful senior relocation business, but she's worked even harder to forget Reed Stewart ever existed—which hasn't been easy, considering he's their hometown's golden boy, and all anyone ever talks about. It was fine while they were thousands of miles apart, but now he's back in Bloomville. She has absolutely no intention of seeing him—until his family hires her to help save his parents.
Now Reed and Becky can't avoid one another…or the memories of that one fateful night.
Can the quirky residents of Bloomville bring these two young people back together, or will Reed and Becky continue to allow their pasts to deny them the future they deserve?
This warm, thought-provoking book, told entirely in texts, emails, and journal entries, is as much about the enduring bond of families as it is about second chances at love, and will delight as much as it entertains.