In The Boyfriend Collector Two by Mimi Jean Pamfiloff, When Rose Hale stumbled into Dr. Bex Hughes' life, he had no idea that he would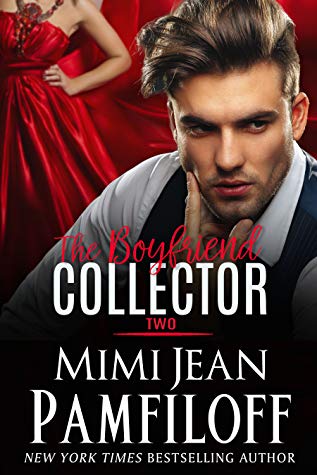 soon fall in love with her. Their relationship, professionally and personally, has been complicated from the start, given that she was embroiled in a family fiasco–and even had an assassin after her. But beautiful Rose, who started off naive and in need of Bex's help, has begun to find her own way. His feelings for her aside, he knows the best thing for her is to learn to handle her chaotic life on her own. But that's easier said than done for Bex. Not only are his intense feelings for Rose getting in the way, but he's also fighting his control over stepping aside while she spreads her wings as a young woman.
'I don't know where to go from here. I can't keep my end of the deal and just sit on the sidelines of her life any longer. I love her too much.'
After a life lived at someone else's beck and call, Rose is finally standing on her own two feet, ready to take on the world. Does she still have some problems to sort out? Absolutely. And is her attraction to Bex driving her insane? Yep. But now with the majority of her family issues sorted, Rose is hopeful that she can finally chase down her dreams. As she begins to figure out what she wants for her future, though, even more issues rear up, causing her to be in danger yet again. Can't a girl get a break? Of course, as should be expected, Bex tries to swoop in and save the day. But as much as Rose wants to let the gorgeous guy in and let him be the white knight, she knows she has to be the one to save herself this time. It will be the first important step to starting her new life on her own terms.
"…I don't know if you're doing all this because you think I'm helpless–which is wrong, *so* wrong–or because I evoke some sort of brotherly protectiveness in you."
He grips my shoulders softly. "I assure you, my feelings are anything but brotherly."
The final book in the Boyfriend Collector duet couldn't have been more complex or more wonderful. An ode to self-reliability, girl power, and the depths two people would go to for love, author Mimi Jean Pamfiloff obviously poured her heart and soul into every page.
'I've made a lot of mistakes, mostly trusting the wrong people, but I've learned one thing out of all this: I can do this. On my own. What I've been through is proof.'
As a huge MJP fan, I look forward to every book release: for the quirky characters, her own brand of hilarity, and the plots that twist and turn at every corner. Yet The Boyfriend Collector duet has been something even more special–at least to me. Yes, it had everything I mentioned above. But it also had a heroine with more than the typical growing pains to endure than we normally see in MJP's work, which I adored.
Rose was an absolutely kickass young woman. A modern day Cinderella, actually. What I truly loved about her was that even after every horrific thing she had been through, and continued to go through, because of her family, she was a beautiful person who stayed kind and had a strong moral compass–even while she stood up for herself (finally!!). It showed Rose's hard-won inner strength that was inspiring to those around her and will be to readers as well. That strength was how she became the driving force of her own story, as MJP so aptly wrote in the Dedication: #BeYourOwnHero.
We also got a lot of Bex's POV in this final installment, which was quite interesting. And although I kind of wanted to knock him in the head a few times (boy was he stubborn! and kind of akin to Jane Austen's Mr. Darcy, now that I think of it…) I believe he really was only looking out for Rose's best interest. In his own unique, totally-being-an-obstinate-man way. I don't want to spoil all the surprises but I will say that there were some extremely hot & smexy moments that I honestly didn't expect out of our dashing hero that will have readers fanning their face and reaching for a cold drink. It was nice, though, to see the real Bex behind his therapist persona. Just like Rose, he turned out to be a badass, too, which was super fun to see. I had such a great time with it that I hated to see the book end, but at least it did so on a perfect note.
Just as enjoyable as anything else I've read by Mimi Jean Pamfiloff but with a more serious side, and some important life lessons to learn, The Boyfriend Collector Two was a swoony, empowering novel that should be at the top of reader's wish lists.
Book Info:

Publication: Published August 16th 2019 | Paper & Silver, Inc | The Boyfriend Collector #2
From New York Times Bestseller Mimi Jean Pamfiloff comes the STEAMY Part Two and conclusion of The Boyfriend Collector.
My name is Dr. Bex Hughes, and I'm in love with a woman who cannot truly love me back. Unless I help her as my patient, and that is forbidden—a taboo in the eyes of the world and the worst professional sin for a therapist.
But what else can I do? Rose was once a real-life Cinderella. Now she's wealthy, single, and free. Except she's convinced that love is used to hurt people, family tries to murder you for money, and no one can be trusted. It's all she's ever known.
So I'm bending every rule I've ever lived by and helping her find her way to real happiness. Only, my self-control wears thin as I hear the details of Rose's dating adventures. Can I prove I will love her unconditionally before my jealousy shatters her trust in me forever?
(Part 2 of 2)