The Break-Up Club by Lorelei Mathias: The story is set in London. Holly has just broken up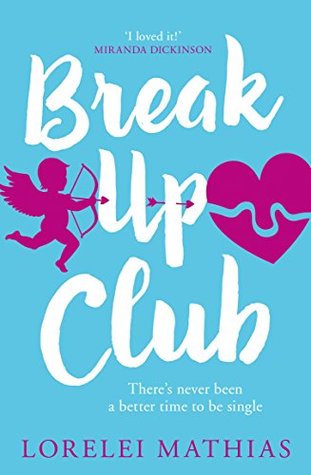 with her boyfriend and to overcome her grief she is initiated into a club. Upon becoming a member, she is required to follow a set of rules.
Besides juggling her video editor role she is to deal with  her broken heart. She and Lawrence were a couple, but when it turned into a relationship where she took the role of an unwilling caretaker, Holly knew it was time to end things. Little did she know how much it was going to hurt.
The break up club became her source of comfort. The club consists of four friends including Holly.
The purpose of the club is to support each bother after heart break and to indulge in activities designed to forget the exes. But soon  the club evolves and becomes much more.  It encourages its members to pursue creative ideas and helps the members further there creative interests. Holly tries to move on with other guys.
It is one hilarious situation after another. But mostly this book is about friendship. What started as a group to support broken hearts, turns into a loyal and strong friendship. Holly, Bella, Olivia and Harry are each others rock. So much so, that Holly finds herself being dependent on them for happiness. This realization propels her to finally move on from Lawrence, her ex.
From dating to pursuing her dreams, a burdensome job and massive heartaches, Holly is having a rollercoaster of an year. Will she find the one? Will she be able to get over Lawrence?
This book is funny. The dialogues are well written. Holly is relatable character. She is flawed as only chick lit heroines can be flawed: A bit clumsy, unaware of her charms , down on her luck, heart broken and waiting to be rescued, it has all the elements of a comedy/ chick lit that make this genre a favorite of its readers. The focus though, is on friendship. But, this book is funny as well as full if surprises. The ending, especially, is a pleasantly unexpected one.
Cover: Nice cover with catchy font and color combination.
Book Info:

Publication: May 19,2016 | HarperCollins Publishers, Maze |
'Sparky dialogue and a lovely depiction of friendship. I loved this!' Katie Fforde
This story is a celebration of the people that bring you back to life when your world closes in: your mates. Relationships come and go, but the Break-up Club membership never truly expires.
'Sparky dialogue and a lovely depiction of friendship. I loved this!' Katie Fforde
'You'd be DAFT to miss out on this fab book – it's blimmin' marvellous! I LOVED IT' Miranda Dickinson
THERE'S NEVER BEEN A BETTER TIME TO BE SINGLE . . .
Holly Braithwaite and loveable loser Lawrence have been together for five years. But the obvious cracks in their relationship can no longer be ignored and Holly soon finds herself saying 'it's not me, it's you'.
In the shock aftermath of their break up, Holly finds unlikely companions in Olivia, Harry and Bella. Together, they form the Break-up Club, as they support each other through their mutual melancholy and find ways to love, laugh and function as human beings again.
Break-up Club meets every Sunday. Each week, as the comedy and drama unfolds, they discover a new BUC 'rule'. And, one by one, the rules become vital markers on their journey to recovery . . .
'BREAK-UP CLUB'
To our members, we're the first emergency service