In The Marine's Embrace by Beth Andrews, former Marine Zach Castro finds himself in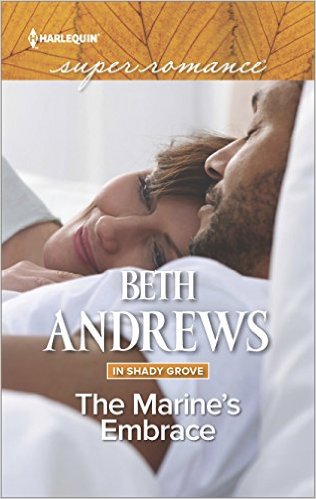 Shady Grove to ask his half-brother, Kane, for a job. After losing both his right arm and right leg in an IED explosion in Iraq, Zach needs to figure out what to do with his life. Kane suggests he stay at the Bradford House, the B&B closest to his bar. It's there that Zach meets Fay Lindemuth.
Fay is a single mother to two young boys. Her ex-husband has her convinced he's going to come back, only he just uses her as a booty call. Her family warns her to stay away but she can't. Then Zach shows up looking for a room, and for the first time, she starts to have feelings for someone besides her ex.
I really liked this story, and it wasn't because of the romance. In fact, Zach and Fay don't even share a kiss until towards the end of the book. What I enjoyed was the fact that these two broken and lost people are able to heal and become whole again with each other's help.
Zach wanted to work but didn't know what type of jobs he'd be able to do with his disability.
Someone. Right. More like a one-armed, one legged man who suffered from headaches, flashbacks, and PTSD. Christ, there were probably tons of job opportunities out there just waiting for him.
He also didn't know what kind of future he'd be able to have. With the help of Fay and her sons, he realizes that there is love and hope for him. And with some help from Kane, he looks into going to college to get a degree and looks towards the future, which had seemed bleak until that point.
Fay not only dealt with depression and her belief that Shane was coming back to her, but she also had to deal with the fact that her family and best friend saw her as weak. Instead of supporting her and helping her come to terms with the truth, they basically told her how to live her life. Zach was the only person who treated her like she could make her own decisions, who didn't treat her like she was fragile, which in turn gave her more confidence in herself.
"You'd better get used to being flat on your ass, then," he told her, "because you're going to spend your entire life getting knocked down."
She lifted her chin, held his gaze. "Then I guess it's a good think I'm good at picking myself back up."
There it was again, that unexpected flash of defiance. Of strength.
I liked Fay's sons, Elijah and Mitch, and their interactions with Zach. Elijah, the older of the two, was fearless and spoke his mind. At first Mitch was terrified of Zach, taking one look at him and then bursting into tears. Over time, Zach patiently won him over.
Zach went back to the stove. "What are you doing?" he asked Mitch, who stood on the chair his brother had dragged over.
"I want to help, too."
"You're scared of me," Zach reminded him.
"I'm not." But he didn't sound too sure about that. "Not anymore."
"Lucky me."
The only reason I did rate this higher was because Fay did get on my nerves occasionally. Even when her ex-husband's pregnant twenty-year old fiancé shows up at her door to confront her, Fay still believes he'll come back to her. She repeatedly calls him and shows up at his motel. In that aspect I couldn't fault her best friend's frustration with her because I was frustrated as well. At some point a person needs to realize the truth of the situation, and I was happy when that finally happened.
"Shane is out of my life," Fay told her. "Not because of anything you or anyone else wanted. It was my decision. It had to be my choice."
The Marine's Embrace is beautifully written story about two broken people finding someone unexpected to help them heal. You can't help feeling for both Zach and Fay and rooting that they'll be able to find happiness. I highly recommend giving this book a read.
Book Info:

Publication: August 1, 2016 | Harlequin Superromance | In Shady Grove #7
He's only looking for a room and a fresh start, but Zach finds more than he'd bargained for when he checks into Fay Lindemuth's bed-and-breakfast. The single mom intrigues him with her quiet strength and gentle beauty. He knows he should keep his distance from Fay and her young sons. Not only is she still hung up on her ex-husband, but as an ex-marine, Zach Castro has no idea what he can offer them. No matter how much he begins to feel for her…