In The Bride Takes a Groom (The Penhallow Dynasty #3) by Lisa Berne, Katherine Brooke was once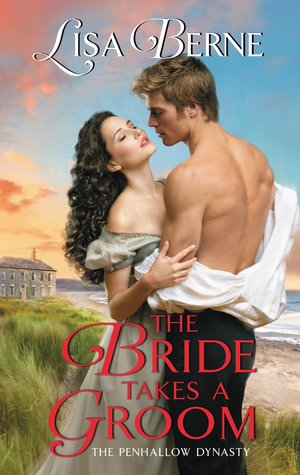 childhood friends with Hugo Penhallow, a boy a couple years her senior who always seemed to understand her dreamy, bookish ways. But circumstances beyond their control separated them, not seeing each other again for almost a decade. A lot can happen in that amount of time. In Katherine's case, she has been sequestered at her family's ostentatious home, only going out into society when it suits her parents' plans. So far she hasn't found a match on the Marriage Mart but she knows when Captain Hugo returns home from the war across the pond, he has set his sights on marrying her. Katherine agrees it would be beneficial to them both–money for his family coffers and freedom from her parents–but it has to be on her terms. Too bad she really has no idea what makes a marriage work. Or what it will take to build a rewarding relationship between herself and Hugo.
"You think I'm strong?"
"Yes, I do. Life's been hard to you in a lot of ways. But it hasn't broken you. And it's made you who you are today."
Ever one to do the right thing, Hugo is aware that his family is in need of help financially. And the quickest way to get the funds needed would be to marry an eligible heiress. Good thing he knows of one whom he used to adore: Katherine Brooke. It won't be a love match to start with, unlike his parents' own sweeping romance, but Hugo is hopeful he will still get along famously with his former neighbor. But the Katherine he knew as a child has grown into a lovely yet closed off woman. Someone who would rather read and spend time alone than get reacquainted with him or his family. Hugo hopes he hasn't made a mistake marrying Katherine and that he'll be able to be what she needs in a husband and partner. If only she'd let him in and tell him what it is she wants.
'And yet he had the oddest feeling, somehow, that once again there was more going on here than what she was saying. More beneath that hard, brittle demeanor of hers.'
A spoiled heiress and a self-sacrificing hero were quite the fiery match in The Bride Takes a Groom, which was basically a friends to lovers *and* a marriage of convenience trope. After a very rocky beginning, this pair ended things on a wonderfully romantic note with a lovely HEA for all involved.
'Perhaps there's more to life than we realize. Maybe there's more inside us than we can know. Maybe–just maybe–we've all got inside of us a little bit of magic, all our own.'
I'll be honest: even though I loved Lisa Berne's writing style and the overall storyline in this book, I struggled to get through the first half of it because of the heroine, Katherine. Trying to connect with her and make sense of her ever-changing moods was tough at times. I did end up truly liking her by the last third or so of the book thankfully. But Katherine came across as very spoiled, naive and coddled for the most part. She was extremely intelligent, loved to read and could carry on a real conversation. But Katherine's home life left her to herself most of the time and she basically lived in her head like a young girl would. So when Hugo reentered the picture and they decided marriage would more or less solve their problems, I hoped Katherine would show a mature side. Unfortunately she did not. At least not at first.
Hugo was a likable fellow from the start. He had hoped he'd be able to marry for love instead of making a business transaction to marry for a dowry but he already knew Katherine and thought they'd be a good match. He wasn't wrong. But boy did Hugo have to work hard to get her to open up emotionally and to communicate with him. I think that was what I struggled with most was that Katherine wouldn't tell him what her wishes or feelings were and became angry that Hugo didn't just instinctively *know*. Stand up guy that he was, he did realize that she was struggling with something and let her have room to figure it out, being patient and more caring than most men at the time would have been.
I loved that Hugo was so jovial most of the time and he absolutely adored his family–who, by the way, were a riot to get to know. His mother was simply wonderful and so kind. His siblings were all incredibly smart and lively, the lot of them having very different interests. We got to meet a bunch of other members of Hugo's family who made an impact on his life and even his relationship with Katherine–particularly Henrietta Pennhallow who was quite a force of nature. And there was even some comic relief (and a symbol of hope) in the form of a featherless, talking parrot named Señor Rodrigo who I think will have readers in stitches.
The Bride Takes a Groom was a sloooooow burn historical romance that was filled with highs and lows, drama and redemption, and a cast of unforgettable characters that will certainly entertain readers.

Book Info:

Publication: April 24th 2018 | Avon | The Penhallow Dynasty #3
Lisa Berne's Penhallow Dynasty continues with a pair of star-crossed childhood friends who meet again years later—and find love where they least expect it . . .
Katherine Brooke may be a fabulously wealthy heiress, but she's trapped, a pawn in her parents' ruthless game to marry her into the nobility. Then Captain Hugo Penhallow—so charming, as handsome as a Greek god—comes into her life once more, and suddenly she sees a chance to be free.
As a Penhallow, his is one of the highest names in the land, but still his family is facing ruin. So Katherine boldly proposes an exchange: his name for her money. But only if Hugo understands it's merely a practical arrangement, and that she's not surrendering herself entirely.
Back from eight years in America and determined to give his younger siblings a better life, Hugo agrees. He's never fallen in love, so why not? Yet neither of them guesses that this marriage will become far, far more than they ever dreamed of . . .