In The Bull Rider's Family by Leigh Duncan, Colt Judd is used to life on the road and being a bull rider. But now that his father has passed away he needs to take the reins of the ranch his father managed temporarily, until his brothers can take over. So far, four generations of Judds have managed the Circle P, but he will not let that end with his father's death, and that means keeping to traditions too.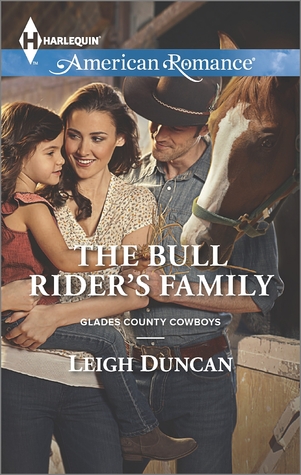 Emma Shane is a chef, and has worked hard to succeed in her career. She had one of the best jobs in the city, but it's hard to climb the ladder in a kitchen where the male chef treats his people badly. So when she was offered a job and her own kitchen at the Circle P ranch by the Judds, Emma packed her belongings and moved there with her daughter.
What Emma didn't expect was to arrive to a funeral, or that the funeral was for the man who hired her. Now her job is in danger, for the contract was not signed yet, and she was to meet with the senior Judd to finalize the details. She has worked hard to try and give her daughter a stable home, but moving her and being in danger of being without a home is not something she wanted.
That's how Emma ends up taking care of the food in the kitchen and the stuff being brought over. Only as she is throwing away food that has been left out too long could cause food poisoning, she finds herself being yelled at by Colt Judd for wasting food. Good thing his mother showed up and told him that Emma is doing what she would have done, and that Emma is no intruder but the new cook.
The down side is that Emma was expecting to first learn from her and then take over. Not take over as soon as she walked through the door. But after just burying her husband it's understandable how she cannot stay at the ranch and needs to get away. But that leaves her with the bully named Colt Judd who has been on her case since the moment she walked in.
But things are not as clear-cut as Colt thinks, as he will soon learn with Emma and her little daughter. Not to mention that being a curt and ignoring her could only put her in dangers he should have warned her of instead of ignoring her, as he will soon find out. And one little four-year-old little girl will steal his heart faster than he wants to leave the ranch.
I really liked this story, for things are not always what people think and Colt will learn that when he gives up Emma for what he thinks is best, and then learns that he made the biggest mistake of his life. Making him move fast before he loses the family he wants forever. Not to mention that Colt and Emma working on trying to recreate the recipes she accidentally destroyed will only bring them closer together and make things very interesting.
If you want a sweet, fun and heartwarming read, don't miss The Bull Rider's Family by Leigh Duncan.
Book Info:

May 6th 2014 by Harlequin American Romance Series #1500
RECIPE FOR DISASTER?
Four generations of Judds have made the Circle P one of the most successful ranches in southern Florida. And even though he's only taking the reins as ranch manager temporarily, Colt Judd isn't about to let the new chef challenge their traditions! Emma Shane may be running the kitchen, but the petite widow and her irresistible four-year-old daughter answer to him.
Runaway bulls, a ruined family treasure and one less-than-welcoming cowboy weren't what Emma envisioned when she relocated her tiny family to the Everglades. Colt isn't going to bully her, even if he is easy on the eyes. The attraction's mutual…and her little girl is also getting attached. But how can Emma trust their future to a lifelong wanderer?