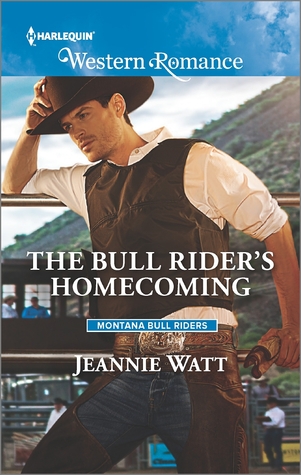 In The Bull Rider's Homecoming (Montana Bull Riders #2) by Jeannie Watt, Annie Owens and Trace Delaney couldn't be more different. While Trace is constantly on the road traveling from event to event in his career as a bull rider, she's looking to provide stability for her twin daughters. However, sometimes life throws people a curveball. Can Trace convince Annie to give a relationship between them a chance?
After taking another small drink, she asked, "Why'd you ask me out for a beer, Trace? Because I get the feeling from our first encounters that you're more of an introvert than an extrovert."
So much for faking small talk. But at least her question had an easy answer. "Opportunity to get to know you better."
I always love a good cowboy story, especially one that encompasses the brother's friend trope and a bull riding hero, and I've got to say Ms. Watt has penned a wonderful novel that kept me entertained from start to finish. The way this story started with the trouble Annie is having around her house made me feel sorry for her. It wasn't easy for her to deal with, and getting a surprise visitor at the same time had me wondering how she managed on her own with her two girls. Where is the twin's father? What happened between her and her ex that made her so independent?
As for the dialogue, I loved every moment that Trace and Annie conversed. Would she give the hero a chance? Would she realize that Trace is nothing like her ex? Annie has serious trust issues, and it isn't easy for her to give Trace a chance after what her ex put her through. Yet, there's something about Trace that she can't resist. The fact that he's so open and honest with Annie was refreshing because she's never had that from a man she's been in a relationship with. Furthermore, I liked how well Trace got along with Annie's twin daughters. He's not used to being around kids, and yet he's really good with them, which surprised me when he was hesitant in the beginning.
I loved both the main characters, and the secondary characters in Annie's brother and his girlfriend as well as the heroine's daughters definitely add that little extra special something to this story. Annie's brother is a little overprotective of her, knowing all that she's been through with her ex, and I could understand why he challenged Trace about what he should or shouldn't do when it comes to the heroine.
"Hey. No fair."
"I broke a rule?"
"I think so. Since when do people eat hotdogs like that?"
"I hope the hot-dog police don't come after me." Her eyes sparkled as she spoke.
"You never know," Trace said before taking a bite of his own hot dog – the regular way. "We might not want to hang around, just in case you get reported."
Annie is strong, brave, independent and could be stubborn at times. I could sympathize with her when it came to whether or not she should give Trace a chance. Since her ex left her at a time in her life when she needed him most, and there was no way she could allow herself let alone her daughters to get attached to a man that would leave to get back to his life. While Trace, he's kind, caring and he's really good for Annie just like she's good for him. He's there for her when she needs someone to handle things when she can't. But what I liked most about the hero was that he was willing to sacrifice what he wants for fear of failing to be all that Annie needs. Really, he is an all-round good guy. Then again, his back story made it hard not to empathize with him believing he wasn't worthy of someone's love besides his mother.
Overall, this was a really good book with a heartwarming romance that will no doubt have readers cheering for this couple's happy ever after; since if anyone deserves forever love, it is this hero and heroine. The way this story ended was perfect, as Annie was determined to fight for Trace. She wasn't about to let him go without making him know how much she loves him. Furthermore, the epilogue wrapped this story up even better with Trace overcoming one of the toughest challenges in his career. Finally, he managed to achieve what few others have. I would recommend The Bull Rider's Homecoming by Jeannie Watt, if you enjoy the brother's friend trope.
Book Info:

 September 6th, 2016 | Harlequin | Montana Bull Riders #2
IS THIS HIS HOME?
Single mom Annie Owen is so busy raising her twin girls, there's no time to focus on the "single" part…until rugged Trace Delaney temporarily moves nearby. Annie's interest in Trace is more than neighborly, but she can't risk losing her heart to a bull rider on the move.
Trace is a rolling stone. Or so he thought. Settling down suddenly seems a lot more appealing if it's with smart, gorgeous Annie and her girls. But they deserve someone they can count on. Is Trace ready to be that man, or will he run from the only place, and the only woman, that ever felt like home?