In The Butterfly Bride (Advertisement for Love #3) by Vanessa Riley, Fredricka Burghley is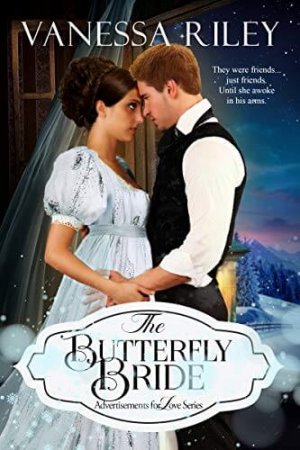 determined to be married by Yuletide, especially with her dad doing his best to match her with one of his friends. However, finding a man to marry her isn't easy when she's the illegitimate daughter of a duke. Yet, the harder she tries to find the right match, the more she finds herself falling for a man totally unsuitable. He's already been married before and very much still in love with his late wife. Will Lord Hartwell be able to win Fredricka's heart or will she end up breaking his?
"For what it's worth, Butterfly, a kiss is a wonderful way to awaken. My second favorite."
"What's the first?" His lips curled, and she instantly regretted asking. "At least you're honest, Lord Hartwell. I like that about you."
Ms. Riley delivers a wonderfully-entertaining, fast-paced, fun read mixed with a little mystery in this book where it encompasses good friends becoming lovers; the opposites attract trope; a wonderful combination of intense moments due to the main characters back stories and what the heroine is going through because a stalker and playful banter that had me loving the close friendship this couple have; and challenging obstacles for the hero and heroine to overcome, which I thought they might not be able to overcome because the heroine can be so stubborn.
The way this story started had sympathizing with the heroine, as she's not only worried for herself because of what's happening but she's afraid of a scandal. Will she find a way to make sure what happens isn't discovered, especially since she doesn't want to marry a man just because of a scandal. However, it was from the moment the hero and heroine come face-to-face for the first time where this story really gets interesting, as the hero wants to protect her and all the heroine wants to do is forget what's happened. How did she end up where she did? Moreover, I really enjoyed the growing relationship between the hero and heroine, even if Fredricka is so stubborn and doesn't believe being with Lord Hartwell is right for her, no matter how many times he tries to prove that he is. Will she give in and finally give the Lord a chance?
"Penny for your thoughts, Miss Burghley. You seem a little put out."
"Gloating is not becoming, my Lord."
He laughed and crossed his long legs. "But it's fun. And I do enjoy riding along with you, and we'll get the chance to do this again. His clerk said next Tuesday will be fine. We're to visit with him after the conclusion of a very important trial."
As for the dialogue, it was intense due to the main characters back stories and everything the heroine's stalker does to scare her. Will the stalker win? Will Fredricka be so scared that she'll do anything to protect those she loves? Moreover, with the main characters, the heroine is strong and brave with everything she's been through in the past and I liked how she handled herself when it came to her stalker. Things get a little dangerous, but she's lucky she has such great friends that care about her. Moreover, I really liked that the heroine gave the hero a chance because he's the best guy for her. He's protective, courageous and I liked how determined he was to uncover who her stalker was, even though discovering the identity of her stalker isn't easy. I also liked the relationship the hero had with his daughters and how the heroine's friendship with the three girls brings the hero to have a closer relationship with his daughters. Really, they're absolutely delightful, especially when they're playing tricks on unsuspecting people that are looking after them..
Overall, Ms. Riley has delivered an utterly delightful and emotionally-animating read that had me smiling at various moments throughout this story; and where the chemistry between this couple is strong and grows stronger with every interaction between them; the romance was delightful and well worth the wait, as the hero fights to win the heroine over; and the ending had me loving the hero's determination to protect the heroine and convince her to fight for their future together. Since exposing her stalker is his number one priority and he won't stop until he's uncovers the stalker's identity. However, it was the epilogue that wrapped this story up nicely, as nothing is more important than family and I liked that things are going to get even better for Lord Hartwell and Fredricka. I would recommend The Butterfly bride by Vanessa Riley, if you enjoy Historical Romance, the friends to lovers trope or books by authors Pamela Mingle, Liana De La Rosa, Monica Burns and Kimberly Bell.

Book Info:
Publication: October 22nd, 2018 | Entangled Publishing |

Frederica Burghley wants to be married by Yuletide. Or else her father will set her up with one of his friends. The bonbon-loving illegitimate daughter of the duke wants to choose her own husband. Advertising in the newspaper seems like the way to go. But a sinister response, with threats against her life, leads her to enlist the help of her very handsome, dear friend Jasper Fitzwilliam, Lord Hartwell.
A father and widower, Jasper is not only tasked with keeping Frederica safe but also with helping his vibrant friend choose a suitable husband. The more he tries to keep the ever-surprising woman alive and find her a good match, the more Jasper realizes he cares for her. The two friends risk their lives for each other, so they should be able to risk their feelings for a chance at a deep and true love together. But he's not looking for marriage and she's not looking for convenience.