In Someone Like You (Oxford #3) by Lauren Layne, the playboy image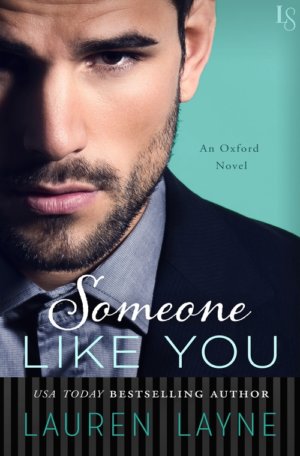 Lincoln Mathis reveals to the world is really a front to cover the sorrow he's felt ever since a tragedy in his past robbed him of someone he loved. But the moment he meets Daisy Sinclair, the twin sister of one of his friends and a woman he's been warned away from, he finds the guard he uses to protect himself from further pain slipping. And the more time he spends with Daisy, the more he finds himself falling. Can he fully let go of the past, so they can have a future together, or will he let the one person that completely understands him slip through his fingers?
"You must be Lincoln Mathis, The Manwhore of Whom I Should Beware?"
Her voice was a surprise. It had the same low huskiness ass her sister's, but years in New York had all but erased the Southern from Emma's whiskey-raspy voice. Daisy's drawl was very much intact – a mint julep on a hot day.
He grinned and took her smaller hand in his. "Which would make you Daisy Sinclair, Delicate Flower to Whom I'm not to speak."
She grinned. "Nailed it."
"And tell me, Daisy Sinclair," he said, "why is it that you've been dubbed off-limits?"
What an amazing novel Ms. Layne has penned in this book, which has become my top read of 2016. Where from start to finish, this story was utterly captivating, highly emotional, fast-paced, and a book that once I finished knew right away that I'll want to re-read again and again. Because Daisy and Lincoln are wonderful characters that deserve a second chance at love, no matter how many obstacles they have to overcome to achieve it.
The dialogue was intense due to the main characters back stories, and there was no way I could have gotten through this book without crying, especially after a certain loss one of the main characters suffer. However, the dialogue wasn't all intense and the playful dialogue between the main characters certainly dried up the tears at the right times throughout this story. And in fact, their playful dialogue had me laughing at times, especially when it came to the nickname Lincoln gave Daisy and the fact that this could be considered a forbidden romance trope themed book because of the warning Lincoln receives about staying away from the heroine. However, in saying that, the advice the secondary characters give both the hero and heroine palpably reveal how good these two are for each other.
With the main characters, both Daisy and Lincoln are fantastic and characters that I could not get enough of. I've loved the hero in the previous books of this series, and have been waiting for his story to be released and it was everything I'd hoped for and more. Lincoln has hidden such pain from his closest friends and it's finally time they know what he's been going through, what he's still going through and hopefully help him move on, even if it means pushing him towards Daisy so they can help each other. Certainly, he has some major decisions to make; decisions that aren't easy. But at the same time, the ones that he makes help him to heal, which was what he needed.
"Take a right up here."
"That's into a parking lot."
"It is?! You sure you're not CIA, those are some keen observational skills."
"You sure you didn't have sarcasm piped straight through the umbilical cord, because your twin has the same smart mouth."
While Daisy, she's strong, brave and I liked how determined she is — if she finds the right man — to move forward from her disaster of a marriage. Her husband was a real horrible jerk and it's no wonder she has trust issues and is wary of getting close to men. But at the same time, overcoming those demons makes her that much stronger. Is Lincoln a safe option? Is he ready to move on? The answers to those questions made this book a complete page turner, yet what I liked most about the heroine was how supportive she was towards Lincoln when it came to his tragedy. She's the one person he can talk to; the one person that may be able to understand his pain of not being able to let go and move on.
Overall, Ms. Layne has penned what I believe is her best novel to date; a novel where the sex scenes were hot and in their own way help Lincoln and Daisy to heal from the hurts of their pasts. Daisy hasn't been able to trust a man since her marriage ended, and Lincoln has had his own reasons for not getting close to a woman, so it makes their relationship all that more special. This story ended perfectly with Lincoln's way of getting Daisy back, because it was something that she'd love, no matter how embarrassing it would have been for him. However, it was the epilogue that wrapped this story up nicely, because it illustrates how lucky two people are to have been able to find love again. I would highly recommend Someone Like You by Lauren Layne, if you enjoy the forbidden romance trope, or a hero and heroine that desperately need each other to help them heal from the hurts of their pasts.

Book Info:

Publication: December 6th, 2016 | Loveswept | Oxford #3
Lincoln Mathis doesn't hide his reputation as Manhattan's ultimate playboy. In fact, he cultivates it. But behind every flirtatious smile, each provocative quip, there's a secret that Lincoln's hiding from even his closest friends – a tragedy from his past that holds his heart quietly captive. Lincoln knows what he wants: someone like Daisy Sinclair, the sassy, off-limits bridesmaid he can't take his eyes off at his best friend's wedding. He also knows that she's everything he can never have.
After a devastating divorce, Daisy doesn't need anyone to warn her off the charming best man at her sister's wedding. One look at the breathtakingly hot Lincoln Mathis and she knows that he's exactly the type of man she should avoid. But when Daisy stumbles upon Lincoln's secret, she realizes there's more to the charming playboy than meets the eye. And suddenly Daisy and Lincoln find their lives helplessly entwined in a journey that will either heal their damaged souls…or destroy them forever.