In The Christmas Bookshop by Jenny Colgan, There's been rumblings for what seems like years that the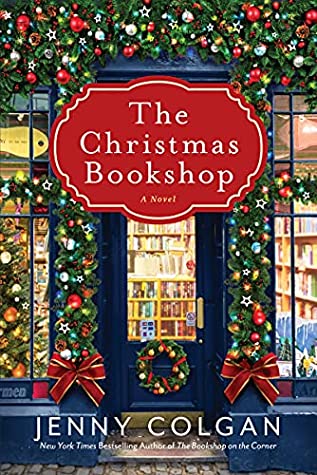 department store Carmen works for will be shut down for good. Yet every year they continue on somehow like normal. But this holiday season, the unthinkable happens: Carmen is suddenly unemployed when the store goes under. She's in quite the predicament. No job, very little money, and she soon won't have enough to cover her rent for her shared flat. When she finds herself back at her mum and dad's house, Carmen doesn't think it can get worse as she wallows in self-pity. But when her successful older sister Sofia offers a place to stay in Edinburgh and a job at a local bookshop, she knows it's about to get even more complicated.
"I can't believe we have..a 'window display.'"
"How…?" said Carmen. "How on earth are you a shopkeeper?"
"I prefer 'custodian,'" said Mr. McCredie.
Sofia and Carmen have never really seen eye to eye on pretty much anything. Sofia doesn't understand why her younger sister never applied herself at school or found an actual career. And Carmen doesn't like having her older sister's law career, exquisite family, and beautiful home thrown in her face at every turn. But between the monumental task Carmen has to make McCredie's cluttered bookshop into a success in mere weeks, Sofia feeling miserable as the end of her (fourth) pregnancy draws near, and two guys who have taken Carmen's eye, the sisters will have to learn to trust one another. But maybe, after all is said and done, losing her job won't turn out to be the worst thing ever as it might have set Carmen on the very path she was meant to be traveling.
"Look what you have here. You have your beautiful shop. Your lovely house… There are so many friends. So many people who care about you."
"That's all you," said Mr. McCredie. "It's you that's made this shop busy again."
The Christmas Bookshop was a feel-good holiday novel about a group of people–some related, some not–who learned what family truly means, what they themselves were capable of, and how Christmas can be a magical time of the year.
'Now, here it was as if they were the only people in the universe as the silent, huge flakes of snow danced and whirled in their intricate patterns, so common and so very, very extraordinary.'
The bulk of the Christmas Bookshop was set in Edinburgh, Scotland, so right away I was charmed by the location, its history, and the locals. It was the perfect backdrop for Jenny Colgan's novel which had a wonderful thread of dry humor woven through it as well as family dramatics that reminded me a little of Jill Mansell's madcap stories. I think readers will appreciate the main heroine Carmen's plight: suddenly jobless at Christmas. Even if it takes a bit of time to see her grow and change from a somewhat self-absorbed woman into one who begins to put others first when she finally starts to interact with, well, everyone.
Colgan created a fairly large cast of local townspeople who were a hoot. From the bookshop's proprietor, "young" Mr. McCredie, to self-help author Blair to yoga-practicing nanny Skylar and even handsome Quaker Oke, there was a character in there for everyone to connect with. I especially liked watching Carmen and her older sister Sofia as they got to know each other as adults for the first time. And how they realized that they may have held some preconceived notions about each other that weren't exactly based on fact. Sofia's three children also added some humor–and poignancy–to the mix. I think that by the final page, readers will be happy with how everyone pulls together in a time of need and the amount of joy and love that shines through Colgan's storytelling.
QOTD: Carmen made some comical gaffes when choosing stories for the bookshop's storytime for children. Did you have any holiday books you read as a child–or for those of you who have children, that you read to them now?
Book Info:

Publication: Published October 26th 2021 | William Morrow |
Perfect for the holidays! A brand-new heartwarming Christmas novel from the beloved New York Times bestselling author of The Bookshop on the Corner and Christmas at the Island Hotel.
When the department store she works in closes for good, Carmen has perilously little cash and few options. She doesn't want to move in with her perfect sister Sofia, in Sofia's perfect house with her perfect children and her perfectly ordered Edinburgh life.
Frankly, Sofia doesn't exactly want Carmen there either. Her sister has always been sarcastic and difficult. But Sofia has yet another baby on the way, a mother desperate to see her daughters get along, and a client who needs a retail assistant for his ailing bookshop, so welcoming Carmen might still have some benefits for everyone.
At Sofia's behest, Carmen is thrown into the daily workings of old Mr. McCredie's ancient bookshop on the streets of the old dark city. Can she use her design skills to revamp the store and bring it back to popularity in time to benefit from Christmas shopping traffic? Can she choose between bad boy literary rock star Blair and quiet Quaker student Oke? And will she heal the rift with the most important people of all: her family?