The Wrong Mr. Right (Dynasties: The Carey Center # 3) by Maureen Child is an interesting story!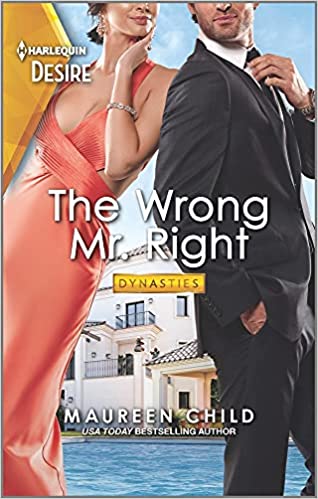 Bennett, the eldest of Martin Carey's sons and daughters and the new CEO of the family company, needs his restaurant, which was destroyed by fire, to be restored in four weeks. With an impossible deadline and the best contractors in the county with full schedules, he has to turn to a small company with the best references. This is how he meets Hannah Yates, the owner of Yates Construction, and his life is turned upside down.
Bennett is a rigid man, tied to schedules and living by strict rules; he hardly ever smiles, doesn't allow himself to be late and with endless suits in his closet but only two pairs of jeans. With the pressures of being the new CEO (including the fact that Martin is having a hard time retiring to make way for his eldest son in the company) and his parents getting him into their marital feud unwittingly, Bennett has his hands full. Enter Hannah on the scene and that makes him rethink various things.
Hannah is a determined, strong, temperamental woman who's not intimidated by anyone. Raised in the world of construction —a world traditionally run by men—, she has had to show her worth and that she can be as good at her job as any man, especially since taking over her father's company. A cautious woman, she had a relationship with a wealthy man that ends badly, for which she tries to keep Bennett at bay, without success. She's loyal to her dearest people (including her employees, who love and protect her), straightforward, honest and with charisma and personality to give away. And of course, she believes that Bennett should get rid of his precious golden watch.
' "I don't know what the hell's happening here, Hannah. This wasn't the plan."
"Not everything has to be planned, Ben."
His lips curved briefly, but he shook his head. "In my world, they do." '
The chemistry between Hannah and Bennett is burning-pages hot as well as fun. Bennett, a funny guy? Well, yes. And it's because both main characters contribute to the other by letting out the best of them.
From the first page, we see that Hannah and Bennett are like oil and water: they don't mix. They both redefine the term 'opposites'. LITERALLY. And while the "opposites attract" formula is widely used in romance books, it's the reason this story works. After all, it's not about reinventing the wheel, it's about turning that wheel differently.
As in the previous books in this series, the Carey family has a relevant role in the plot, giving the spark a story with a too imposing hero needs. A hero who, although at first glance seems lacking in grace, is deeper than it seems. In addition, the author gives us several details of what will be the fourth and last book in the series. Likewise, I liked how detailed it has been about Hannah's work, without being boring or tiring the reader. And how everything falls in its perfect place.
As always, Ms. Child brought a credible, well-written and exciting story.
Book Info:

Publication: November 30, 2021 | Harlequin Desire | Dynasties: The Carey Center #2
Opposites attract…but will they give in to temptation? Find out in this flirty Dynasties: The Carey Center romance by USA TODAY bestselling author Maureen Child!
These opposites want what they can't have
as business takes a very personal turn.
Contractor Hannah Yates wears a hard hat for protection on the job. If only she could protect her heart from the man who's about to put her company on the map! All she has to do is meet blueblood CEO Bennett Carey's impossible deadline…and resist their sizzling attraction. But when her day job leads to an unforgettable night, will Hannah risk everything she's worked for—or fall for Mr. Right this time?
From Harlequin Desire: A luxurious world of bold encounters and sizzling chemistry.
Love triumphs in these uplifting romances, part of the Dynasties: The Carey Center series:
Book 1: The Ex Upstairs
Book 2: Ways to Win an Ex
Book 3: The Wrong Mr. Right
Book 4: One Little Secret