The Christmas Cafe at Seashell Cove by Karen Clarke: Lovely, quick and light holiday fare.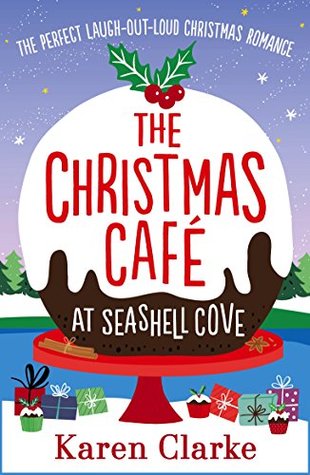 Tilly, an interior designer, is decorating the local café in preparation for a big Christmas party. She's also trying to wiggle out of attending a wedding with Rufus, the guy she's been seeing, and adjust to the sudden arrival of her snarky older sister, and young niece. But, her life really changes when she meets, Seth, a retired race car driver and his son, Jack.
Tilly manages to become involved with Seth and Jack, doing things she never imagined herself doing, even setting her sister up on a date with Seth! But, as the Christmas party nears, one thing after another goes awry. Can Tilly get out of attending the wedding with Rufus? Will she pull off the perfect Christmas party at the café, or will this Christmas go down in infamy?
This is a cute story, very light, but still makes room for a few nice family moments in which the characters learn to let go, forgive, and heal. Tilly's character is just wonderful, very funny and so, so, so refreshing! The secondary characters are well -drawn and all contribute something to the story, in some way. The romance is very light and sweet, developing slowly, in a unique and original way. The holiday elements also come in on the lighter side of things, making this a story one can enjoy any time of the year. While this is the third book in the series and there is some time given to characters from previous installments, this one can be read as a stand-alone. Over all this an easy, delightfully fun story anyone can enjoy!
Book Info:

Publication: 10/05/18 | Bookouture | Seashell Cove #3
It's beginning to look a lot like Christmas at the café at Seashell Cove, where there's hot chocolate to keep you warm – and the man of your dreams could be waiting…
Interior designer Tilly Campbell loves being carefree and single. But her latest job is redecorating the cosy local café for a Christmas party, and when her friends confess their plans for the big night – including a proposal, a declaration of love and a pregnancy announcement – Tilly starts to wonder if she might be missing out…
Transforming the café into a winter wonderland is more of a challenge than she thought, so when she bumps into gorgeous newcomer Seth, Tilly welcomes the distraction. Seth is a single father, struggling to settle his son Jack into their new cottage, and Tilly is determined to help them make their house into a home in time for Christmas.
But with the café still in chaos just days before the party it looks like it's going to be a Christmas to remember for all the wrong reasons… With friends old and new relying on her, can Tilly save the Christmas party?
And could she finally find love waiting for her under the mistletoe?