In A Nanny for the Reclusive Billionaire (Worthington Sisters #2) by Regina Cole, Mallory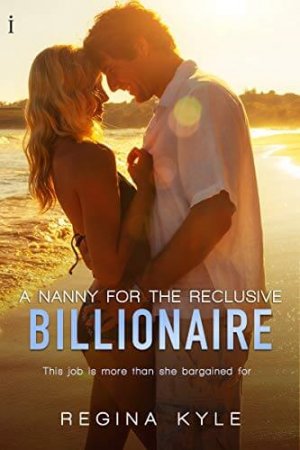 Worthington is finally read to live life the way she wants instead of living in a gilded cage. So, when an opportunity arises for her to use her skills as a chef while being a nanny to a four-year-old boy, she takes it. However, she never imagined she'd fall in love with Rhys Dalton, the reclusive billionaire that gave her the job, especially after him being so determined to send her on her way the moment they meet. Will Mallory be able to convince Rhys to take a chance on her or will she walk away from her shot at happy ever after?
He consulted his watch again. "You've got four minutes."
"You're making a mistake sending Miss Worthington away."
"You don't say?" Rhys leaned back in his chair and crossed an ankle over his knee. "What makes you think that?"
Collins hesitated, then shrugged. "Call it a gut feeling."
Having absolutely enjoyed the first book of this series, which features Mallory's sister Brooke as the heroine, I couldn't wait to read more about the Worthington sisters and how determined they are to finally get away from the way their parents rule their lives, even though their grown women. Will Mallory finally live her life the way she wants to? Will she cave to the pressure her parents — especially her mother — put on her? The way this story started drew me in immediately and had me liking the hero and heroine straight away, as Rhys wasn't expecting someone like Mallory to be his son's nanny and it's understandable why he's so hesitant to keep her around. Since she's young, attractive and certainly someone he wouldn't be able to ignore. Will Mallory lose her new job before she even gets started? However, it was from the moment the hero and heroine come face-to-face for the first time where this story really takes off and had me reading quickly, determined to discover whether Rhys would let Mallory stay.
As for the dialogue, it was compelling and intense due to the main characters back stories, as both have been through so much with Mallory being a survivor of cancer and Rhys having lost someone he loved. Will these two be able to help each other heal from the wounds of their pasts? Moreover, I really liked both the hero and heroine and I loved how much of a challenge the heroine provided the hero because he's all about work and she's determined to make sure he finds a balance between work and rest, especially since she believes he needs to spend more time with his son. Will Rhys see that Mallory is right when it comes to finding a balance between work and rest? Will Rhys finally be able to let go of the guilt he's felt since his wife died? Will Mallory make Rhys realize that what he's doing to his son isn't healthy by keeping him practically a prisoner in his own home?
With the heroine, she's strong and brave in everything she's overcome in her past and I liked how determined she is to finally escape and find her way in the world after being sheltered and coddled for so long by her parents. I also liked the tight bond Mallory shares with the hero's son and her sister, and I loved the Sound of Music references her sister teases her with. Yet, what I liked most of all about the heroine was how she fought to make the hero see that his son deserved more and that Rhys couldn't protect him like he is forever. It's not fair to his son. While the hero, he's hard-working, will do anything for his son to keep him safe and I liked that he gave the heroine a chance because he needs someone to make him realize that he shouldn't keep punishing himself for what happened to his wife. It wasn't his fault. Will the hero realize that what happened to his wife wasn't his fault before he loses Mallory? Will the hero realize Mallory is right when it comes to his overprotectiveness for his son?
"I don't take those words lightly. I've only said them to one other woman. And I never thought I'd say them again. Then you crashed into my life like an asteroid and changed everything."
"An asteroid." She lifted her face. The start of a smile playing about the corners of her mouth and the light dancing in her eyes boosted his hopes, even though she hadn't said the words he longed to hear. Yet. "Sounds deadly."
"Not this one. "He reached up to cup her cheek. "This one saved me."
Overall, Ms. Kyle has delivered a wonderful read in this book where the chemistry between this couple was intense; the romance was delightful and had me loving these two together because Mallory is so good for Rhys; and the ending had me loving the hero's determination to make things right with the heroine after things go awry with their relationship. His words were heart-warming and had me loving that he won't let anything stand in his way from telling Mallory how much he loves her. However, it was the epilogue that wrapped this story up perfectly, as Mallory and Rhys are adorable together and deserve every bit of happiness they've found after everything they've been through in their pasts. I would recommend A Nanny for the Reclusive Billionaire by Regina Kyle, if you enjoy mysterious strangers trope, the boss-employee romance or books by authors Stefanie London, Victoria Davies, Taryn Leigh Taylor and Kira Archer.

Book Info:

Publication: September 10th, 2018 | Entangled Publishing | Worthington Sisters #2
Mallory Worthington has had enough of being treated like a fragile flower. She needs to get out of Dodge, as far and fast as possible. Somewhere no one knows about her childhood battle with cancer. A talented chef working at her family's flagship hotel, she leaps at the first job opportunity that meets her criteria – personal chef and nanny for a reclusive and insanely hot billionaire in the Florida Keys. She doesn't know a lot about the nanny part, but how hard can it be?
Billionaire Rhys Dalton cut himself off from the world after his wife was killed. Living on this remote island was the only way he could ensure the safety of his son. Finding someone willing to help him take care of his child, well that's been a challenge right up until Mallory knocks on his office door. She makes him think and feel things he hasn't in years. He's smart, so he fires her on the spot.
But she's not going anywhere, no matter how hard he might try to get rid of her…