The Christmas Cowboy Hero by Donna Grant finds ex-Navy SEAL Clayton East being forced to return to the family ranch he has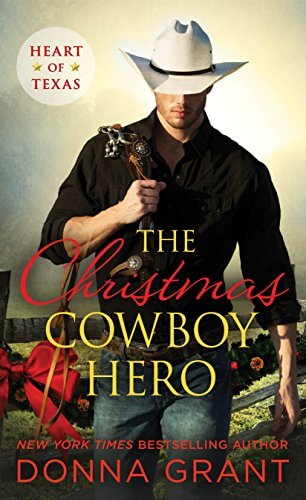 avoided since he joined the military. After his brother's death on the ranch, all he wanted was to get away from it. His parents, however, need him. His father has had a mini-stroke, the CPA for the ranch has embezzled from them, leaving them on the verge of bankruptcy, and around a hundred cattle have been stolen. When he discovers that a sixteen-year-old is involved in the cattle rustling, he intends to press charges until he meets Brice's sister and guardian, Abby Harper.
Abby has been raising her younger brothers since her mother took off eight years earlier. She's struggling to make ends meat, yet she offers to pay Clayton back for the cattle. When he tells her how much they're worth, she knows there's no way to pay him back. Clayton, taking pity on her, arranges for Brice to work off his debt to the farm. His deal is two-fold: he wants Brice to admit who else was involved and where the cattle were hidden, and he wants Abby's brother's to have a male role model that they both clearly need.
Both Abby and Clayton feel guilty over things that have happened in their pasts, things they never opened to anyone else about until each other. They're able to help one another in other ways, as well–Abby with the embezzled money, and Clayton with the boys. I liked how Clayton and the other ranchers step up to teach the boys about ranching and provide them with a sense of purpose and male guidance that they both seemed to be missing.
I also adored the relationship the brothers have with Abby. While Brice did the wrong thing in helping the cattle rustlers, the reason he did it showed his heart was in the right place. And when Abby was afraid of getting involved with Clayton, it's her fourteen-year-old brother that showed her it was ok to take a chance.
"But wouldn't you rather see where this takes you than to always wonder?"
If Abby thought Justine's words were wise, then she was bowled over at her fourteen-year-old brother's wisdom. "Yes."
"Then stop holding back. You like him. I can see that. Go for it, Abby. Me and Brice will always have your back no matter what."
She rested her head on his shoulder. "It's scary."
"I'm sure it is, but you can't let life continue to pass you by. You've done enough for us."
There were a couple of things I wasn't crazy about. One was that when Clayton was going to confront the cattle rustlers, he takes Brice with him. Considering he all but admitted it could be dangerous, I didn't understand the decision to bring him along. Yes, Brice wanted to help make things right, but it didn't seem like the best decision to bring a sixteen-year-old along on this particular mission.
Then there is Gloria, Abby's boss who wants Abby to convince Clayton's family to use their firm as their CPA since they needed a new one. I thought she maybe she was somehow involved with what was going on; she was so determined to get Clayton's family on their books and she seemed a little shady, but nothing ever really came of it.
I've read other books by this author that I've enjoyed, and this is no exception. Donna Grant writes characters with heart, characters that readers can't help but feel and root for. With a bit of mystery and action, fans her Sons of Texas novels will enjoy the beginning of this new series.
Book Info:

Publication: October 31, 2017 | St. Martin's Press | Heart of Texas #1
'Tis the season for ex-Navy SEAL Clayton East to come home for the holidays―even if the mood at home is anything but festive. His father is ill. The East Ranch is in financial trouble. And now it's on Clayton, the prodigal son, to make sure his family doesn't lose everything.
Headstrong Abby Harper is like a mother to her younger brothers, who she's helped raise since she was a teenager. Keeping them in line is no small task while she's also working toward her college degree. And now that one of her brothers has been arrested for stealing cattle at the East Ranch, Abby is at her wit's end. But there is a silver lining: Clayton East. He believes in second chances, and is willing to give one to her brother this Christmas. Letting beautiful Abby―and the inescapable longing in his heart―off the hook, however, is a whole 'nother story. Could it be that the woman of this local hero's dreams has been back at home all along?