In The Christmas Key (Twilight, Texas #9) by Lori Wilde, In a meet-cute worthy of a rom-com movie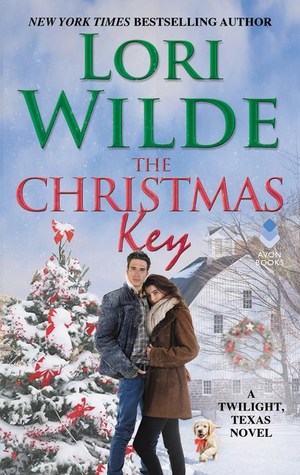 was how Naomi Luther and Mark Shepherd came face to face for the first time. It was a noteworthy introduction for the the former Marine and the local minister's daughter. It was also the shocking realization they each had that this was the person they had dreamed of last Christmas. If town folklore is correct, the fact that the kismet cookie under their pillows last year had them dreaming of each other means they will find true love together. Naomi isn't so sure about that last part, and neither is Mark–who admittedly is doubtful about relationships anyway–but it is strange how strong of a connection they have right from the start.
'God had brought this man into their lives. She didn't know how or why, she only knew it was so. Mark Shepherd needed Naomi, and her family, as much as they needed him.'
Goodness knows, though, that after spending the last year grieving over the loss of her brother, Naomi and her parents are thankful to have something good happening in their lives. And Mark is certainly that. Not only is he proving to be a skilled handyman for her father, but he is also a strong male role model for her nephew Hunter. A boy who Mark soon realizes has worked his way into his heart. Just as Naomi has done, along with her parents–and the rest of Twilight–if he's being honest with himself. And for a guy who feels like he's outrunning a world of grief and guilt, with nothing to give back those who are so freely giving to him, Mark must figure out if he can stick around and pursue a life in the little Texas town. Or if his secrets will be too much for everyone to bear.
'She was sitting right in front of him–beautiful, sexy, happy, fun.
A woman he had no business yearning for. Yet here he was, yearning with a need so profound it floored him. His body ached and his soul burned for her.'
No one writes a more magical, heartwarming–or heart-wrenching–Christmas story than Lori Wilde does. This latest novel in her Twilight, Texas series was full of everything the town is known for: kismet cookies, community spirit, second chances, and fated romance.
"All you have to do is trust."
"In what?" Shepherd asked, frowning.
…"The magic of Christmas."
Twilight, Texas might be a fictional town, but ask fans of the series and they will swear it seems like a real place. Thanks to Lori Wilde's descriptive writing and the carefully crafted people who inhabit the town, Twilight is somewhere I love to "visit" often. Especially at Christmas. The town is decorated to the Nth degree, there's lots of holiday events going on, and of course almost everyone is trying to share the joy of the season. That was definitely true for newcomer to town, Mark Shepherd. He was a wounded warrior and a tortured hero dealing with survivor's guilt who just wanted to do the right thing. Where he had an extremely tough upbringing, it felt so good to watch townspeople embrace Mark and show him what it feels like to have people care for him. And to watch him open up and give back to the community in his own special way.
Naomi was an interesting heroine. I think for a few readers she might be too much of a goody two-shoes, but considering that she was a minister's daughter, I found her personality fit her well. She was kind of a mix of traditional values meets the modern world, and there were little things Naomi did that had me smiling in surprise. I loved that she had such a kind heart. Which really showed in how wonderfully she took care of her nephew, whom she was adopting since her brother's death. That little boy, Hunter, was so sweet he'll simply melt your heart. And his connection right away with Mark as sort of a pseudo father figure was sigh-worthy and perfectly done by Wilde.
With an unorthodox twist to the plot that will warm your soul, The Christmas Key was the type of holiday book to cherish and revisit, year after year. Whether you're already a fan of the Twilight, Texas series or not, feel free to get lost in the pages and enjoy the journey Lori Wilde takes her readers on here.

Book Info:

Publication: Published October 23rd 2018 | Avon | Twilight, Texas #9
In this magical Christmas story–the latest installment in the Twilight, Texas series–from New York Times bestselling author Lori Wilde, the Cookie Club is at it again meddling in the course of true love by wiping up a batch of matchmaker cookies designed to help the lovelorn find their soul mates
There's a legend in Twilight, Texas. If you sleep with a kismet cookie under your pillow on Christmas Eve, you will dream of your one true love.
She saw him in her dreams…
It's impossible! Naomi Luther was standing face to face with the man she'd dreamed about over a year ago. Was it the magic of Kismet Christmas cookies that brought him to her? Or is there even a greater force at work? All Naomi knows is she is falling, hard and fast, for the one man all good sense says she should not have.
She was his best buddy's sister…
Rebellious Mark Shepherd found order in the Marines but chaos on the battlefield. In a mission gone wrong, Mark is injured and his best friend loses his life. Haunted by guilt, he arrives in Twilight to keep a solemn promise. But when the Luthers mistake him for their handyman, he's swept up in playing Santa to his buddy's orphan son…and falling hard for Naomi's irresistible bright spirit and sweet, sexy smile. But what will happen when she learns the truth?