In The Christmas Sisters by Sarah Morgan, Anyone would think Christmas in the Scottish Highlands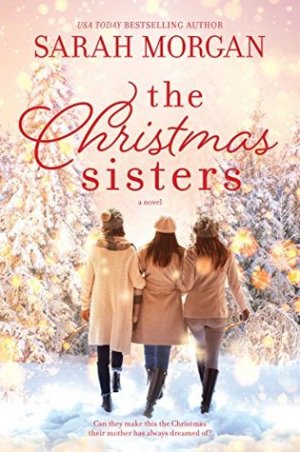 would be idyllic, steeped in all the warmth and coziness of the season. But it couldn't be further from the truth this year. As Suzanne and Stewart McBride prepare their house for the arrival of their three grown adopted daughters, things slowly start to fall apart. Between health problems, early arrivals, sisterly tension, and a tragedy twenty-five years ago they are all still dealing with, Suzanne isn't quite sure how to keep her daughters from bickering throughout the entire holiday. Let alone how to deal with her own problems.
'She'd never seen the three of them so upset.
The harmonious atmosphere was cracking. Her dreams of a perfect Christmas were splintering in front of her.'
With sisters Beth and Hannah both living in Manhattan, you would think that they'd get together frequently, even if just for a quick lunch date. But with Hannah's insane work schedule and all of Beth's time devoted to her two young daughters, time is hard to come by. But Beth could definitely use her older sister's advice. Thinking about reentering the workforce is stripping her of confidence and making Beth wonder if she has her priorities straight. If only she knew that Hannah could also use a sympathetic ear, with a personal crisis freaking her out to no end. And back in Scotland, Posy is doing her due diligence, helping her parents run the family cafe. But her head is in the clouds–and all wrapped up in the handsome new writer in town. Christmas this year, it seems, is going to be a wild and crazy time for all of the McBrides.
'That was the hardest lesson of all to learn.
You couldn't have everything you wanted, but if you were lucky, you had the things that mattered.'
The Christmas Sisters was another lovely novel by Sarah Morgan, one of my go-to authors for stories with complicated family dynamics, realistic female relationships, and a wonderful blend of lighthearted moments and sincere emotions.
'The McBride family always gathered at Christmas. It was tradition. She'd resigned herself to the fact that it was something she was going to have to live through, like a bad bout of the flu.'
I have such fun with Sarah Morgan's stories and get the biggest kick out of her characters. And I loved meeting sisters Hannah, Beth and Posy–along with their significant others–as well as the sisters' parents, Suzanne and Stewart. I have to say that I really liked them all. Of course I connected quicker with some (Suzanne and Posy) but I enjoyed seeing where each person was in their life after tragedy in the past had changed them all. It always feels like Morgan creates the most genuine situations. And the accompanying feelings that go along with it are just as vivid and real. That was how it felt while I was reading about exactly how this family of five came about, and I could see why each of them took the paths they did.
Stewart and Suzanne were probably my favorite couple overall. I adored their teasing and how they made each other smile even when things seemed to be going wrong. They imparted a lot of wisdom to their "girls"–and in a way that wasn't too overbearing. Of course I more than enjoyed the fact that this was set in the Scottish Highlands. At Christmas. How fun is that, right? It was a beautiful backdrop for a family reunion, each member with some issue or struggle in their life bothering them. I don't want to give too many details away, but the basic problems were: Beth had mommy guilt over wanting to go back to work and trying to get her husband to agree to it; Hannah was in over her head with a guy in her life–especially since she never gets emotionally involved; and Posy wanted to spread her wings a bit, to go on mountain climbing adventures but didn't want to hurt her parents' feelings in the process. It was a lot to sort out, but Morgan did it exceedingly well and in the most heartening of ways.
Filled with warm sentiments that will hold true, The Christmas Sisters dealt with letting go of the past, forging new traditions, and accepting–and appreciating–the love of family.
Book Info:

Publication: Published September 25th 2018 | HQN Books |
In the snowy Highlands of Scotland, Suzanne McBride is dreaming of the perfect cozy Christmas. Her three adopted daughters are coming home for the holidays and she can't wait to see them. But tensions are running high…
Workaholic Hannah knows she can't avoid spending the holidays with her family two years in a row. But it's not the weight of their expectations that's panicking her—it's the life-changing secret she's hiding. Stay-at-home mom Beth is having a personal crisis. All she wants for Christmas is time to decide if she's ready to return to work—seeing everyone was supposed to help her stress levels, not increase them! Posy isn't sure she's living her best life, but with her parents depending on her, making a change seems risky. But not as risky as falling for gorgeous new neighbor Luke…
As Suzanne's dreams of the perfect McBride Christmas unravel, she must rely on the magic of the season to bring her daughters together. But will this new togetherness teach the sisters that their close-knit bond is strong enough to withstand anything—including a family Christmas?