In The Sheriff's Little Matchmaker (Rose Creek, Texas #1) by Carrie Nichols , Sheriff Remy Fontenot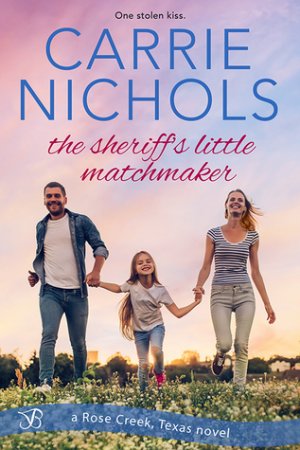 has often thought about the woman that kissed him in a bar one night and then disappeared. Yet, when he discovers she's his daughter's teacher, Remy decides he can't let her get away a second time, especially since he never thought he'd see her again. Too bad Sasha Honeycutt wants nothing to be with cops. Will Remy be able to win Sasha over with a little help from his daughter or will the little girl's matchmaking be for nothing?
"I apologize, cher, want me to make an announcement?"
Sasha jerked her head up. "Announcement?"
"Yeah, you know, I could stand up and tell everyone this isn't a date." He chewed on his bottom lip as if to keep from laughing.
Of all the…She yanked her hand away from his. "Are you crazy? That-that would just make it worse."
"How about—" he leaned across the table – "if I handcuff you? We can tell everyone I arrested you."
I love a good small town romance and Ms. Nichols has delivered an utterly charming, fast-paced, charismatic read in this first book of her Rose Creek, Texas series where the hero is a deliciously sexy Cajun with an adorable little girl that is determined to matchmake and a heroine that has already lost so much and getting involved with another cop is something she never wants to do again. Will Remy's daughter be able to bring her father and Sasha together just like she hopes?
The way this story started had me loving the main characters immediately because the heroine is finally ready to move on from her past and accomplishing the dare her friends challenge her to is liberating. However, it was from the moment the hero and heroine come face-to-face for the second time where this story really gets interesting, as the hero's daughter has such a genius plan to bring Sasha and Remy together. Will the little girl's plan work? Moreover, both the main characters are compelling and the secondary characters in the heroine's best friends and the Rose Creek's townspeople definitely bring that extra little something special to the story, especially since Remy is quite the catch or so the women think he is.
As for the dialogue, it was extremely entertaining and intense due to the main characters back stories and I could understand why the heroine is scared to give Remy a chance because he's a police officer and so was her husband that died on the job. She's been there, done that and got the scars to prove it after learning things about her husband she never knew. How could she give Remy a chance when it's palpable he's hiding things? Yet, the dialogue wasn't all intense and I loved the playful banter between the hero and the heroine, as Remy works towards winning Sasha's trust. Really, he amused me with several of his lines.
He glanced over to where Evie was still playing the game. "You are aware, cher, there's two kinds of wrong. The good kind and the bad kind."
That deep drawl sent shivers down her spine. "Are you telling me, Sheriff, that you do only the good kind of wrong?
"Of course." He raised his eyebrows and grinned. "And I think you and I could get into all kinds of wrong…in a good way, of course."
"I didn't realize there was a good way to do wrong."
With the heroine, she's strong and brave in having finally decided to move on from her past and not be the one that everyone thought of as 'the poor widow' anymore. Yes, she lost her husband, but it doesn't mean her life has to be over and moving to Rose Creek is good for her. I also liked that she gave the hero a chance, even though she was adamant about never dating or marrying another man that was a cop. While the hero, he's confident, hard-working, charming, a good father and I liked how determined he was to win Sasha over because she's been on his mind ever since they first met. I also liked the decisions he made throughout this story that prove he's willing to do whatever it takes to be with the heroine. Yet, what I liked most of all about the hero was the tight bond he shared with his daughter. It's palpable how much he loves her by everything he does for her.
"Leaving fingerprints? Are you expecting trouble?"
He chuckled and rested his hands above her door. "You've been causing me trouble from the moment I set eyes on you, cher."
"And how would you rate my performance?" Bold much, Sasha?
He removed his sunglasses. "Are we talking kissing or troublemaking?"
Her heart beat rapidly, but she continued. "They're one and the same, wouldn't you say?"
Overall, Ms. Nichols has delivered a fun and well-written read in this book where the chemistry between this hero and heroine was tangible and intense from the moment they meet; the romance on the sweet side and had me loving how determined Remy is to win Sasha's heart, especially since she wasn't interested in getting involved with another cop; and the ending had me loving the compromises these two were willing to make to be together because it shows how in love they are. However, it was the epilogue that wrapped this story up nicely and has me looking forward to more of this series, as Remy's daughter is not the only one determined to matchmake. I would recommend The Sheriff's Little Matchmaker by Carrie Nichols, if you enjoy the matchmaking trope, the mysterious strangers trope or books by authors Elsie Davis, Jennifer Hoopes, Sonya Weiss and LE Rico.
Book Info:

Publication: October 8th, 2018 | Entangled Bliss | Rose Creek, Texas #1
When teacher Sasha Honeycutt kisses a handsome cowboy in a bar on a dare, she never expects to see him again. To her surprise, though, he walks through the door of her classroom for a parent-teacher conference. Sheriff Remy Fontenot might be sexy as sin, but Sasha has no interest in falling for another police officer. Rose Creek, Texas is her fresh start after being "that poor widow." Only, Remy's precocious daughter has big plans for the two of them…
After their stolen kiss, Remy knows there's a sexy woman hiding under that school marm charm. When fate—aka his seven-year-old—keeps putting her in his path, he decides to take it as a sign. His daughter needs a mom, and the intriguing, beautiful Sasha is perfect for the role. Not to mention their chemistry is off the charts. Unfortunately, he's set his sights on the one woman in town who has no interest in falling for another man with a badge.