In The Cliff House by RaeAnne Thayne, Cape Sanctuary, California, and the house they made into their home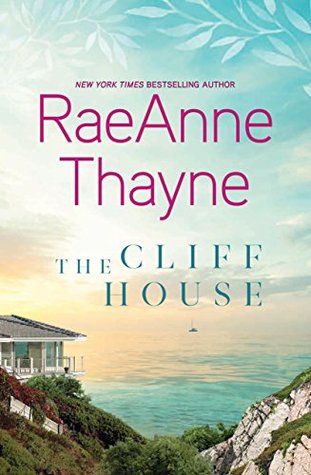 on the dramatic, wind-swept cliffs, was a literal sanctuary for three young women at one of the most pivotal times in their lives. Years ago, sisters Daisy and Beatriz became the adolescent wards of their aunt Stella, who was barely out of high school herself when they moved to town. Through years of bonding and hard work, not only have all three women grown and created satisfying lives for themselves, but they each have also found their own home in Cape Sanctuary. None of them will ever forget, though, their rough beginnings. And Bea and Daisy will certainly always cherish how much love and warmth Stella showed them when they were troubled kids.
'Where would she and Daisy have ended up if not for their aunt? Stella had rescued them, just as she had rescued all the other foster children she took in after her job with them was done.'
These days, Stella is a schoolteacher who has fostered over a dozen youngsters since her nieces grew up and left their cliff-side home. She's watched Daisy, who has always kept her heart bound up tight, become a successful financial advisor but who has yet to find lasting love in her personal life. And Bea, well, she found love young with a local guy who went on to become famous…only to have their relationship shatter. But out of it came Bea's beautiful daughter Marisol who is now an eleven-year-old with her feet firmly on the ground and the light of her family's eyes. Daisy, Bea and Stella all realize the strength they bring to each other's lives. And that strength will be put to the test while they take the next steps in finding a way to fulfill their individual dreams.
'She had always been so careful, so determined to protect herself. Yet now she was destined to wind up with a broken heart.
She saw no possible way to avoid it.'
The Cliff House was another stunning, emotionally-charged novel by RaeAnne Thayne in which she swept me away with our three heroines from the beginning, while they were on their arduous journey to find peace, love, and acceptance.
'She kissed him as the waves brushed against the shore and the stars began to pop out, one by one.
As their mouths met, familiar yet new, she felt that breeze carry some of her sadness out to sea.'
Part women's fiction, part contemporary romance, but all heart, The Cliff House was everything I love about RaeAnne Thayne's writing. (And look at that beautiful book cover! She has the most picturesque covers, I swear…) We met our three leading ladies at a turning point in their lives, with Stella, Daisy and Bea all facing some tough situations that would require soul-searching and inner strength. And I adored all of our heroines. Usually there's a stand out character in any ensemble cast for me. But I honestly can't decide this time as each of them resonated with me, but in their own individual way–something I find Thayne's writing does quite often.
I loved learning about each woman and seeing how intertwined their lives were. As well as how complicated it made their decisions at times, as they didn't want to step on anyone's toes or hurt each other. To me, there was an underlying subtle theme of female empowerment while Daisy, Bea and Stella shored one another up through each issue they endured. I so enjoyed that there was a love match for each of them. And that the romance was as varied and unique as the women were themselves. It didn't distract at all from the feeling of home and family that the Cliff House was all wrapped up in for me and instead I thought the love stories for each of the three women enhanced their personal lives as well as the book overall.
RaeAnne Thayne's compelling characters and trademark warmth made The Cliff House a book to treasure. Filled to the brim with female power, complicated choices, and the love of family and friends, I think this will be a terrific addition to any reader's keeper shelf.
Book Info:

Publication: March 26th 2019 | HQN Books |
Three women—two sisters and their aunt—and the cliff house on the northern California coast that served as a beacon to them all…
After the death of their mother, sisters Daisy and Beatriz Davenport found a home with their aunt Stella in the beautiful and welcoming town of Cape Sanctuary. They never knew all the dreams that Stella sacrificed to ensure they had everything they'd ever need. Now, with Daisy and Bea grown, it's time for Stella to reveal the secret she's been keeping from them—a secret that will change their family forever.
Bea thought she'd sown all her wild oats when she got pregnant far too young. The marriage that followed was rocky and not destined to last, but it gave Bea her wonderful, mature, now eleven-year-old daughter, Marisol. But just as she's beginning to pursue a new love with an old friend, Bea's ex-husband resurfaces and turns their lives completely upside down.
Then there's Daisy—sensible, rational, financially prudent Daisy. She's never taken a risk in her life—until she meets a man who makes her question everything she thought she knew about life, love and the power of taking chances.
In this heartwarming story, Stella, Bea and Daisy will discover that the path to true happiness is filled with twists and turns, but love always leads them back home.