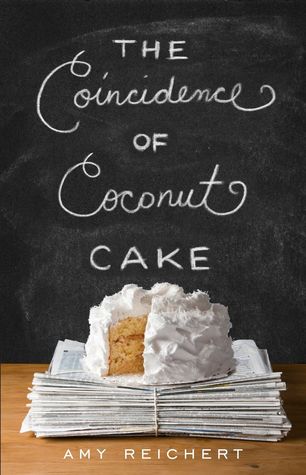 The Coincidence of Coconut Cake by Amy E. Reichert is a yummy foodie book that combines a sweet romance with wonderful characters that will tug at your heart, delicious food that will leave your hungry and wonderful HEA that will leave you cheering.
Al is a brit on a mission. He is a secret food critic that writes a weekly column in the newspaper thrashing local restaurants with his witty humor and sarcastic comments. He is bidding his time until he can make a move and get into the big time, proving that he is bigger and better than the small town paper that he currently writes for.
Lou is a wonder chef and owner of Luella's (named after her beloved grandmother), struggling to make it and convince her fiance that she does not need to give up her dream to be with him. When she decides to surprise him with her grandmothers coconut cake, finding him dressed in his boxers and his assistant dress in her nightie, she calls off the engagement and has a horrid night at the restaurant, the same night Al shows up to review the place could mean the death of her.
When Lou and Al meet on the street, he doesn't realize that she is the owner of Luella's, the place that he gave a scathing review after one visit, and Lou does not know that he has a secret identity. What starts out as a challenge to make Al love everything Milwaukee, soon turns into so much more. But when Al learns who Lou really is, he tries with everything that he has to cover his tracks, hide is secret and support her. When the secrets and lies start to unravel, it could leave these two a flat as a fallen cake.
If you are a fan of You've got Mail, then you will love this story. Al and Lou are so good together. Al does some crazy things to try and cover his tracks, and Lou takes Al on an adventure of a lifetime showing him all the wonderful places that exist in Milwaukee. Al's co-worker John is roll on the floor funny. His comments and his sense of humor had me chuckling from beginning to end. Gertrude and Otto, the older couple from Luella's, who sort of adopted Lou were so kind and loving. There are parts of this story that will truly break your heart, but in the end, the HEA is something to celebrate, because in the end, love reins in this delicious foodie romance.

Book Info:

 5 Stars July 21st 2015 | Gallery Books |
YOU'VE GOT MAIL meets HOW TO EAT A CUPCAKE in this delightful novel about a talented chef and the food critic who brings down her restaurant—whose chance meeting turns into a delectable romance of mistaken identities.
In downtown Milwaukee, Wisconsin, Lou works tirelessly to build her beloved yet struggling French restaurant, Luella's, into a success. She cheerfully balances her demanding business and even more demanding fiancé…until the morning she discovers him in the buff—with an intern.
Witty yet gruff British transplant Al is keeping himself employed and entertained by writing scathing reviews of local restaurants in the Milwaukee newspaper under a pseudonym. When an anonymous tip sends him to Luella's, little does he know he's arrived on the worst day of the chef's life. The review practically writes itself: underdone fish, scorched sauce, distracted service—he unleashes his worst.
The day that Al's mean-spirited review of Luella's runs, the two cross paths in a pub: Lou drowning her sorrows, and Al celebrating his latest publication. As they chat, Al playfully challenges Lou to show him the best of Milwaukee and she's game—but only if they never discuss work, which Al readily agrees to. As they explore the city's local delicacies and their mutual attraction, Lou's restaurant faces closure, while Al's column gains popularity. It's only a matter of time before the two fall in love…but when the truth comes out, can Lou overlook the past to chase her future?
Set in the lovely, quirky heart of Wisconsin, THE COINCIDENCE OF COCONUT CAKE is a charming love story of misunderstandings, mistaken identity, and the power of food to bring two people together.