Sweet Southern Nights by Liz Talley is a sweet romance about two best friends who start to see each other in a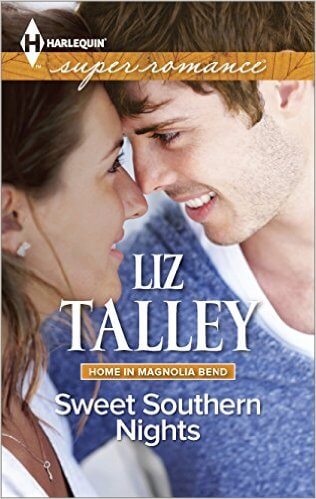 whole different light. Of course when they do realize they could have a relationship with each other, there are obstacles that try to tear them apart. Eva and Jake are both firefighters and must trust each other to have their back when they go out in a call, but can they trust each other with their hearts as well.
Eva has been in love with Jake for a long time, but he's off limits. He doesn't stay with the same woman for long and he's pretty much been with all the single women in town. One kiss changes the way he feels for Eva. Suddenly he is seeing her in a different light. Eva knows how Jake is and refuses to let him into her heart more than he already is, only so he can grow tired of her. Eva takes the logical route and tells him no, not wanting to damage their friendship.
"But what if I'm falling in love with you?" he said. "What if you're breaking my heart by not even giving me a shot at yours?"
I didn't fall for Jake in the beginning, but when he tells Eva that, my heart ached for him. He's extremely sweet and loving, but not without his faults. He makes mistakes in this story, some bigger than others, but nothing that a little forgiveness won't cure.
I really enjoyed Sweet Southern Nights by Liz Talley and anyone who appreciates a sweet romance and the friends to lovers trope will definitely want to read this story.
Book Info:

Publication: August 1, 2015 | Harlequin Superromance |
One kiss can change everything!
Eva Monroe is always cool under pressure. As a firefighter, it's part of the job. But after kissing Jake Beauchamp in a moment of confusion, she's struggling to keep it together. Jake's her best friend and co-worker — two very good reasons why crossing this line is a bad idea.
Yet something between them must've changed because one kiss isn't nearly enough — for either of them. But Jake is haunted by a past tragedy and isn't the commitment type. With more than just Eva's heart on the line, she needs to end things now before this fire burns out of control.